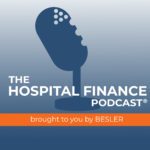 In this episode, Bob Mahoney, Senior Reimbursement Consultant at BESLER, reviews key changes and updates to the 2018 OPPS Final Rule.
Podcast (hfppodcast): Play in new window | Download
Subscribe: Stitcher | RSS | More
Learn how to listen to The Hospital Finance Podcast on your mobile device.
---
Mike Passanante: Hi, this is Mike Passanante. And welcome back to the Hospital Finance Podcast.
Today, I'm joined by Bob Mahoney who's a senior consultant on our Reimbursement Services Team here at Besler. And Bob is going to talk to us about some of the key changes that are happening as a result of the OPPS final rule which was issued in November and becomes effective in January 2018.
Bob, welcome to the program.
Bob Mahoney: Thank you, Mike. Thanks for having me. I just want to talk about the final rule. There's been some changes to the rates—as always, some significant changes. And also, there's an emphasis on quality and transparency. But mainly, we're going to focus on the change to the 340B which is going to have an impact on hospitals across the country.
Mike: Yeah, that's the one everyone is talking about. So I'm looking forward to diving into that with you.
So, first, what is the effect of the final rule on OPPS rates? Can you talk about that?
Bob: The OPPS budget for the year is $70 billion across the spectrum. And it's based on an increase of 1.35% to hospitals on outpatient. And really, that breaks down as hospitals got a 2.7% market basket increase. But that was offset by a -0.6% update for productivity and also a -0.75% adjustment for cuts under the ACA which is ObamaCare (which you'll hear about in the news). So it's kind of still are affecting things. And there could be a change as the year goes on.
But once again, hospital rates will go over by 1.35% on the outpatient which is a positive (maybe not enough for most hospitals, but it is a positive).
Mike: Are there any significant changes to outlier payments?
Bob: Outlier payments are important. People think they're just in-patient, but they are outpatient. And they pay you for high cost of complex procedures.
There was a change with the fixed dollar threshold. It went from $3,825 in '17 to $4,325 in '18. And that's derived by taking your total outpatient charges times your cost-to-charge factor. It will trigger additional payments if needed, if it goes above that threshold.
And so, it's important that hospitals capture all their charges and document all the documentation that they do on the outpatient basis so they get all the outliers that are due to them.
Mike: What about the impact of the wage index on the 2018 OPPS?
Bob: The wage index is also important to the outpatient. A lot of people don't realize that. But 60% of your outpatient rate is based on your wage. Your wage is derived from submissions on the cost report and the hospitals in your area. It's important to fill that out completely.
Another important factor, in the proposed rule, the imputed rural floor which affects hospitals in New Jersey, Delaware and Rhode Island was not in in the imputed rural floor. But due to legislation, it got into the final rule. So that certainly helps hospitals, like I said, in New Jersey, Rhode Island and Delaware.
Mike: Bob, was there an update to the in-patient only list?
Bob: There was an update to the in-patient only list. And this is interesting. The in-patient only list was the procedures that could only be paid on an in-patient basis for Medicare patients. But what got removed to the outpatient list is total knee arthroplasty. It now will be paid through Medicare in an out-patient basis.
It's a significant change. It could lower the cost of hospitals that are able to do that on an outpatient basis. That's a big change and quite a way to [work] with technology with really improving that. You can get a total knee arthroplasty on an outpatient basis.
Mike: Yeah, that is a significant change.
Let's talk about the hospital outpatient quality reporting program. What's going on there?
Bob: One of the more significant things with quality that's coming in is you can be penalized 2% in your payments across the board for out-patient if you don't meet the quality standards. But you can't get any more if you meet them. So you're expected to perform quality on this. Consumers, want quality in everything we do.
They removed six items from going into 2018—median time to pain management to hospital outpatient surgical procedures data, median time to fibrinolysis, aspirin at arrival, door to diagnostic evaluation and safe surgery checklist.
And when they removed these things, it means they expect them to be done. So you're expected to be guaranteeing those qualities, initiatives, and you have to meet all the other ones.
And what's really interesting this year when it comes to quality and transparency, the CMS proposed that in '18, they want to publicly display data on the Hospital Compare website as soon as possible. And those are data for quality for hospitals across the country.
We all know people are going to websites and looking at data and comparing data. And the hospitals' quality scores will be on there. So if you're not doing well, people will know about them. They'll use that decision—not just Medicare patients, but all patients—on what hospitals to go to get treated.
Mike: Yeah, certainly a big move towards transparency in the system. And you can see that being furthered here in the final rule.
Are there any other reporting changes that the audience should be aware of?
Bob: Once again, there's the Medicare site of service price transparency. And this came out of the 21st Century Cures Act that came out last year. A hospital outpatient department must make available to the public via a searchable website which will have the appropriate number of items and service estimated payment for the amount and the amount that the patient should be expected to pay. And this is obviously transparency, that the hospitals have to show their outpatient payments and what they're charging.
But also, it's more work for the hospitals to maintain this website. And it's something they've never done before. It has to be on the hospital's website. And you can be subject to penalties if this does not happen. So it's a significant change.
---
Thinking about a DSH or Wage Index review? See what BESLER can do for you.
---
Mike: Bob, are there any updates or changes to the provider-based OP site?
Bob: Yeah, that was a significant part of the '17 rule. Sites that weren't Medicare certified by November 1, 2015 that were more than 250 yards away from the hospital were paid at 50% of the outpatient rates.
Now, this year, that's gone down to 40%.
This is causing significant changes for hospitals, that they're getting paid less than what they could've gotten paid to how they've been November 15th. They didn't know that rule in November 15th. But if they're on-site, they would get the full hospital outpatient rates.
So, it's to really have the hospitals look at the way they do business. And it's going down. It went to 40%—the proposed rule had it going to 22% of the APC rate. So, we're seeing that that's the trend. And it's eventually go to the physician rate because they're saying, "You're off-site. You're not part of a hospital, so we're going to pay you the physician rate." So, hospitals have to make decisions on how they do business and where they're expanding to.
Mike: And Bob, you alluded to the 340B program earlier in our discussion. And of course, that is probably the most significant change that has occurred as a result of the OPPS final rule here. And it's one the industry is certainly talking a lot about. Can you break that down for us?
Bob: Yeah. But first, before doing that, let me go into a little history of the 340B.
It was started in the Veterans Healthcare Act in 1992. And what it does is that hospitals that are DSH hospitals over 11.75% DSH population (which is the indigent population in a hospital's area) were getting paid 22% times the average wholesale price of drugs for all outpatients. So that's your chemo drugs, your high-end drugs. And it allowed hospitals to treat outpatients and keep these services going. As we know, the price of drugs has risen significantly.
When the program first started, there's approximately 540 hospitals. And now, in 2014, it was 2140 hospitals. And we know that drug costs are rising.
So, what CMS has proposed in this rule, what the CMS says in the final rule is now they're going to get the average wholesale price minus 6%. So, you can do a simple math. It's 28%. It's a drastic change to hospitals and the way they can serve outpatient people and the high-end chemo drugs and what's going on there. It really changes the way a hospital can do business.
And drug cost is such a piece. They get paid the rate of treating the patient plus the additional drug cost for all their patients, not just the Medicare patients. So, they were able to offset the cost of treating indigent patients. And now hospitals have to make some tough decisions. And it's really changing and impacting what hospitals are doing right now.
Mike: And obviously, with any of these drastic changes, there's usually some industry pushback and some pretty strong opinions about it. What are you hearing out there?
Bob: Well, what I heard—and this came out the day the rule came out. Tom Nichols is the Executive Vice President of the American Hospital Association. He immediately had a press release. And to quote him, he said:
"CMS's decision in today's rule to cut Medicare payments to hospitals for drugs covered under the 340B program will dramatically threaten access to health care for many patients, including uninsured and other vulnerable populations."
"We strongly urge CMS to abandon its misguided 340B rule, and instead take direct action to halt the unchecked, unsustainable increases in the cost of drugs."
And those are strong words. And there was talk that, at one point, they were reaching out to the pharmacies to lower the price of drugs, the pharmaceutical companies. But obviously, they went the other direction. It's a lot of dollars to CMS. They didn't think that it would go from 22% above the average wholesale rate to 6% below. They knew it had to be changed, but this is such a significant change in one year for hospitals.
The American Hospital Association, the American Essential Hospitals and the Association of the American Medical Colleges all filed a lawsuit immediately the day the final rule came out against CMS because of these changes. It's just not fair to hospitals that these changes are happening. And big pharma has to have a clear role.
Mike: Well, it's certainly something that's going to unfold in the coming weeks and months. And we'll keep tabs on that and hopefully be able to bring you back some interesting insights as that continues to evolve.
So Bob, thanks again for joining us on the program and bringing us the latest around the OPPS final rule.
So Bob, thanks again. I will be talking to you soon.
Bob: Thank you, Mike. And we'll keep you posted.