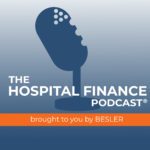 In this episode, we are joined by Laura Legg, Solutions Strategy Director at BESLER, to discuss the most significant changes resulting from the recently released Outpatient Prospective Payment final rule.
Podcast (hfppodcast): Play in new window | Download
Subscribe: Stitcher | RSS | More
Learn how to listen to The Hospital Finance Podcast on your mobile device.
---
---
Highlights of this episode include:
Analysis behind the changes to the new final rule
Tips for hospitals about their public view charge master profile
Details about the expansion of telemedicine and virtual care
What policies for documentation were made to help physicians reduce paperwork
Controversy behind the E&M flat rate and the delayed changes for codes
And more…
---
Mike Passanante: Hi, this is Mike Passanante. And welcome back to the Hospital Finance Podcast.
Today, I'm joined by Laura Legg who is our Solutions Strategy Director here at BESLER. And we're going to be going over a few of the key points in the recently released Outpatient Prospective Payment final rule.
Laura, welcome back to the podcast.
Laura Legg: Well, thank you, Mike. It's great to be here.
Mike: So, why don't we get started? I know you wanted to open up and just talk a little bit about this year's rule, where you can find it. And we'll jump into what changed from there.
Laura: Great! Well, thanks to everyone who joined us today. We certainly know from looking at the proposed rule that we aren't going to lack for thing to talk about with regards to the outpatient final rule.
So, one of the things I did right off the bat was go take a look. I went to the website—which was easy to find, you just find it on Google. Just google "fiscal year 2019 OPPS final rule." And you will get all 1182 pages of it.
Often, I like to ask a polling question when I'm on a webinar and I have an audience to see how many people actually read it. And I have to confess to you, Mike, and to the group today, I didn't read the whole thing. But I did spend a lot of time going through it.
And I would suggest that, if you're looking for something, that you use the search box that is at the top of the page of the final rule because, otherwise, going through 1182 pages is a daunting task.
But seriously, the information in the final rule is really important to us. And that's why we're here today.
Mike: No doubt! Lots of major items to cover here. And we'll go through just a few today. And then, we'll tell you where you can get Laura's full analysis here at the end of the podcast.
So Laura, in your analysis, you identified a few areas that the rule was essentially focused on—changing or making better in addition to the actual technical changes that accompany them. And the first is price transparency. Why don't you tell us about that?
Laura: Mike, many of us have been waiting for some clarification from CMS about price transparency. And I'm sorry to say that we did not get in the OPPS final rule.
But I do want to pass along a little bit of information that I think is important because I've had a lot of questions. And next to E&M, price transparency is the area I've had the most questions.
It does include all hospitals, including critical access hospitals. They all must post their prices by January 01, 2019. The format instructions from CMS are pretty unclear—that's for sure. And we did not get further clarification.
But we do know that the rule includes all standard charges for items and services provided by the hospital. The format itself is the hospital's choice. So the format on how you choose to publish your standard charges is up to you. But really, most people are referring to—that are going to represent their hospitals—current standard charges by using their charge master.
Mike, I did want to point out to the audience today that it is important to take a proactive approach by developing a unique publication plan for your CDM. This will make sure that you do due diligence in evaluating the risks and the public relation impact. And this should result in a more strategic approach. You're going to publish this and patients are going to go out and see it, and what is their reaction going to be is one of the big questions.
So, consider not only what to include in the public view profile but also the ramifications.
Hospitals will want to ensure that their publication version of the file is current and has accurate information only. That's going to be important. Three tips that I would throw out there to hospitals to ensure their public view charge master:
doesn't include copywritten data elements without clear knowledge of the licensing parameters;
that it's free from incorrect or overwritten data;
that it's posted in a way that makes certain to control undesired downloads
So, all of those are really important.
As a top priority, I would give careful consideration which charge data fields will be displayed. I also really suggest developing a patient educational information in a narrative format. The reason for that is there's a lot of confusion when the public receives something as complex as a CDM, a look at your CDM file. So really be prepared to respond to questions and concerns about what the public can see.
Mike: Laura, the second key theme that you mention in your analysis is telemedicine. Why don't you tell us about that?
Laura: Well, I'm really happy to say that, for the first time, this rule is going to provide access to virtual care in an expanded way. I have some personal experience with telemedicine. And I'll tell you, I think it was pretty slick when I used it one time.
So, Medicare's payment policies are designed to promote access to virtual care. And it's actually going to now become a reality that includes increased telemedicine services and easier access for seniors monitoring their chronic conditions.
So, the ideal is a patient that has congested heart failure, and they need to be weighted and monitored closely. Sometimes, for these seniors, Mike, getting out to a place to be weighted and to see a physician can be really a daunting task. So, really, it's going to be great.
Now, a word of caution, of course, is that, telemedicine, in order to be paid by CMS, is going to have to meet the payment rule. And so that's going to be important. So they're estimated that telehealth is an $18 billion industry today with significant growth projected. So it's a real area of growth in the United States. And it's in rural and as well as urban areas. It's been proving to be safe and effective for patients that need to seek treatment.
But you want to make sure that you are adhering to a few core principles. And I'm just going to quickly go over three of those, Mike.
The first one is licensure. The practice of telemedicine must occur where the patient receives treatment, not where the physician is located.
So, adherence to standards of care for telemedicine are the same as for in-patient care.
Payment is going to be medically necessary and a covered service to be paid for regardless of how it's provided.
So, go forth with caution for telemedicine payment. But the good news is that it is expanding for CMS with the final rule.
Mike: Laura, you also mentioned in your analysis that the rule is situated to reduce physician administrative burden and burnout. What are your thoughts there?
Laura: Well, this is good news for physicians and other providers, Mike—some streamline policies for documentation, reduction in paper work that's hopefully going to give what's wanted by physicians (they want to maintain that patient-physician relationship that's so important in medicine). So these documentation policies are designed just do to that.
So, they're going to reduce paperwork burden. And I'm going to share just some of the ways that that's going to happen.
For fiscal year 2019 and beyond, CMS is finalizing several policies. One is the elimination of the requirements to document the medical necessity of a home visit in lieu of an office visit for established patient office and outpatient visits when relevant information is already contained in the record.
Practitioners can choose to focus their documentation on what has changed since the last visit and not re-record everything. So that's really the big news. For instance, if you have recorded a social history, medical/surgical history, you're going to be able reuse that document rather than re-documenting it every time a patient comes in.
The other one also is for E&M office outpatient visits for new and established patients. Practitioners will not have to re-enter the patient's chief compliant and history that have already been entered by ancillary staff. So that's great. They could just simply indicate in the medical record that they have verified the information.
So, this is actually removal of duplicate requirements for notations in medical records. And I'm sure the physicians are going to be happy about that.
As a result, patients are likely to see the effect of this by their physicians having more time to spend with them and be able to move more quickly and locate relevant information in the records.
So Mike, this really is a win for everybody.
Mike: It certainly sounds like it.
Laura, let's talk about some of the more specific points of the rule itself. And certainly, when these rules come out, everyone pays attention to the payment rates. So tell us what's going on there.
Laura: Well, for calendar year 2019, CMS is increasing the payment rates under OPPS and outpatient department fee schedule increase factor of 1.35%. So that's good news.
Beyond that, there's also an increase factor based on the final hospital inpatient market basket percentage increase of 2.9% for inpatient services paid under IPPS.
So, all around, some increasing in payment rates.
And based on this update, we estimate that total payments to outpatient providers will be approximately $74 billion which is an increase of approximately $5.8 billion compared to the estimated calendar year 2018 payments. So, that's the update, Mike, on the payment rates.
Mike: Got it! And another thing that these rules tend to do is shift what's considered to be an inpatient procedure versus an outpatient procedure. And certainly, there were a few changes this year. Why don't you tell us about that?
Laura: And these are really few changes. I was surprised that there wasn't a little more with all of the changes during the year during joint replacement and so forth. But really the final is there are four procedures being removed and one procedure being added. And just really quickly, I'll let you know what those are.
So, the removals are called 31241 for nasal/sinus endoscopy, surgical (that's being removed); the second one is code 01402. And that's for anesthesia for open arthroscopic procedure (it's being removed); and then third is 02660 for implementation or replacement of carotid sinus baroreflex activation devices. The last removal is called 00670, anesthesia for extensive spinal and spinal cord procedures.
So, those are the removals from the inpatient only list.
The only addition this year, Mike, is code C9606, percutaneous transluminal revascularization of acute total/subtotal occlusion during acute myocardial infarction. So that's the only addition. And that one does totally makes sense since it's an open chest thoracic procedure, that it would be on the inpatient only list, Mike.
Mike: And one of the more controversial provisions that were discussed in this year's rule is the E&M flat rate. What's going on there, Laura?
Laura: So, this one really was the one I received the most questions about and probably read the most about in the news and on some of the websites I visit.
So, it was approved. But the good news is it was delayed until 2021 to allow more time. CMS received more than 15,000 comments made to the agency. And so they did respond to that. They did approve it, but they did respond to those comments by providing more time to get used to it.
So really, the doctors spoke out; CMS listened. They delayed any changes to code for Medicare patient visits until 2021. So while they did move ahead with part of the plan to consolidate the codes for Medicare patient visits and make changes in response to the comments, I know that doctors were worried that the plan would cut revenue from physicians who care for Medicare patients with complicated health conditions. So, they did delay that which is going to allow the physicians as well as the American Hospital Association to iron out the details and have more to say on how they might want to update these E&M codes.
One of the reasons they did this, Mike, is that these E&M codes have not been updated for decades. And they are pretty old. So we'll just have to wait and see what comes forth next year or in 2021. It's actually when they'll be in effect though. We'll have to watch the discussion between now and then.
Mike: So, we've covered just a few key themes on the podcast today. If you'd like to look over our more extensive analysis, you can visit besler.com/2019OPPS. And there are some additional resources for you there.
Laura, thanks so much for joining us today on the podcast.
Laura: Thank you, Mike. It was my pleasure.
---
Slideshare: 2019 outpatient prospective payment system final rule key points