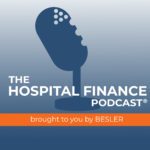 In this episode, Scott Besler, Senior Manager on our Reimbursement Services team at BESLER, gives us a first glimpse of the 2019 audited wage index data.
Podcast (hfppodcast): Play in new window | Download
Subscribe: Stitcher | RSS | More
Learn how to listen to The Hospital Finance Podcast on your mobile device.
To view a SlideShare presentation about this episode, click HERE
---
For more on the Medicare Wage Index, check out our SPECIAL REPORT: Medicare Wage Index: What it is, how it works, and why it is important
---
Mike Passanante: Hi, this is Mike Passanante. And welcome back to the Hospital Finance Podcast.
Today, I'm joined by Scott Besler who's a Senior Manager in our Reimbursement Services department here at BESLER. And Scott is going to give us a first glimpse of the audited 2019 Wage Index Data.
Scott, welcome back to the program.
Scott Besler: Hi Mike. Glad to be here.
Mike: So Scott, CMS released its fiscal year 2019 Wage Index Data files. What does this mean for hospitals?
Scott: Well Mike, each year, CMS releases iterations of Hospital Wage Index Data in the form of Public Use Files or PUF data as it's commonly known. Hospitals should review their salary and hours for accuracy and update any internal models that they may have concerning this data.
Mike: Scott, how often is the PUF data updated on the CMS website?
Scott: That's a good question, Mike. It varies from year to year. But you can count on at least five times per each federal fiscal year. There's the initial PUF. That data will be released in May or August, most likely unaudited. For example, the initial PUF file for federal fiscal year 2019 was released in May of 2017, then re-released in August 2017, to incorporate the new occupational mix survey.
Then there was the January PUF. Well, it was actually released February 2nd. So I guess it's now the February PUF. But this data is the first glimpse of the audited data and should have all the adjustments included for each hospital.
Then there's the proposed rule PUF. And this data will, of course, reconcile to the amounts listed in the proposed rule. You can look for this in April or May. And the most important aspect of this data is that hospitals will use this data to determine whether to withdraw or stay in their current reclassification if it's applicable.
Then no soon do you have the proposed rule PUF, you get a May PUF, about a week later. This data is released after the proposed rule. It's not going to tie to anything in the proposed rule. However, it will be most reflective data that will be included in the final rule.
Then you have the final rule PUF. And that data will support the wage index values contained in the final rule of course.
And that's the five that I mentioned, but there are times that there's a correction notice. And for the past three years, CMS has released a correction notice. Should there be any discrepancy in the final rule data, this new PUF, this CN PUF for correctioners, will have the corrected amounts. And most, if not all, correction notice PUF's will be released after October 1st.
So, hospitals should be aware of that, that when they update their rates to go live on 10/1, there may be a correction notice, and they may have to re-evaluate their rates.
Mike: So, lots of different releases, Scott. Which one is the important?
Scott: Well, actually, they're all unique. And hospitals need to be aware of the deadlines when reviewing their data. If their internal data agrees with the PUF, there's not much for the hospital to do. However, I do suggest that they continue to check the data against each iteration.
So, my suggestion is, if they find anything that's been omitted or does not agree to what they submitted for their adjustments or after their audit with their MAC, they need to contact the MAC if they have any questions during the review.
And even if they use an outside vendor, my suggestion to the hospital is to reach out to the MAC because you don't want to have anything lost when you're trading emails back and forth. I do suggest keeping the vendor in the loop, but you're a direct line to the MAC. The MAC will also respond rather quickly to a provider than an outside vendor.
It takes a few minutes to check your data against the PUF. So if you can find those two minutes or ten minutes each time, it doesn't really add up to much time.
Now, if you find a difference, as I've said, call and email your MAC. You do use the belts and suspenders approach. The MAC, keep in mind, that they have tight deadlines just like yourself. So it could be as simple as an audited adjustment that didn't make it to the final review.
Just be certain to meet each deadline. That's very important. We've talked to MACs in the past and they have said they can't do anything for the provider if the provider didn't meet the deadline that was presented before them.
Now, one thing you can do is look at the wage index timeline. On the home page for each federal fiscal year—so the FY 2019 Wage Index has a timeline. I would suggest printing that timeline off, have it at your desk and know each deadline as it approaches.
CMS is very good about updating this timeline. And it's something that hospitals need to be aware of when they want to challenge their data.
And I cannot stress enough to make checking this data a habit. And now that you know the deadlines, just set aside some time in your week to do it.
Mike: So Scott, speaking of deadlines, are there any deadlines that are fast approaching or may have just passed?
Scott: Yes, Mike. February 16th was the most recent deadline. And this is the deadline for hospitals to submit requests including supporting documentation. Even if it's the same supporting documentation that you initially presented to the MAC, re-send it. It shouldn't be much just to make copies of it and build the record.
These are for corrections to the errors in the January/February PUF that are due to CMS or the MAC mishandling of the Wage Index Data. So this is something where you've reviewed the data, there doesn't seem to be the adjustment that you've agreed upon with the MAC. You need to let the MAC know.
Or if there's any revisions to the adjustments to the Wage Index Data that were included in the January/February PUF. Again, provide supporting documentation for that request as well.
Now, MACs must receive the requests and supporting documentation by this data. They allow you to email it, so that's not a problem. But my suggestion is email and mail if you can. But you have to get it to them by that date.
The next date would be April 5th. And that deadline consisted the filing. It's the deadline for hospitals to appeal the MAC determinations and the requests, and request CMS' intervention in the case where the hospital completely disagrees with the MAC's determination.
Now, it should be noted that during this review, CMS does not consider any new issues. So any adequacy of the data, they're not going to look at that. They are brought in as a third party to bring the two together and say, "Okay, how do we fix this?"
There's a new deadline for hospitals to dispute data corrections made by CMS. Now, the hospitals are notified after the January 30th PUF data or at least 14 days prior to April 5th. So that would be March 22nd of 2018.
So, requests must be received by CMS by this date. And a copy of appeal with complete documentation shall be sent to the MAC. This is all contained in the timeline. So hospitals, when you're looking at these deadlines, I would definitely direct them to the timeline.
And the timeline has all the appropriate addresses to send the data.
Mike: So Scott, you have mentioned previously the proposed rule and the May PUF data. Can you explain how providers should review that?
Scott: Sure! The proposed rule PUF will have amounts and schedules—so you're going to have table 2, table 3—that a provider can reconcile to the actual PUF data.
Now, hospitals that reclassify should review this PUF specifically to determine if their current reclassification application is still a viable option for that hospital, or if it's a group, for that group.
Mike: Can you expand what a viable option might look like?
Scott: Yes, I should explain that. When a provider or a group of providers, like a county, reclassify, there are instances where the reclassification may not yield a higher wage index value than that of their current geographic wage index value. So if a provider notices this, they have an option to rescind their current application for the upcoming fiscal year.
Now, this rescind must be sent to CMS and the MGCRB in the form of a letter that's within 45 days of the release of the proposed rule. Now, that 45 days is a little tricky because, as you know, the proposed rule is listed as a display copy and then in print form (which is usually two weeks after the display). CMS has attempted several years in the proposed rule to start the 45-day clock at that display date. However, it's never come to fruition. So therefore, the 45 days starts when it's published.
But hospitals should know their data and get that letter as soon as possible.
Mike: Is there anything that providers should know about rescinding their application?
Scott: Yes, if a provider has an individual application, they simply should send their letter to rescind and reinstate their application for the next year if applicable.
For example, hospital A has an approved MGCRB reclassification. And as you know, the reclass applications are valid for three years. This individual hospital has a valid application for '19, '20 and '21. In reviewing their data for federal fiscal year 2019, hospital A realized that their geographic CBSA is a better option than their reclassified CBSA. So then hospital A should rescind their federal fiscal year 2019 application. But also, in the same letter, reinstate their federal fiscal year '20, and then review the federal fiscal year '20 when it's appropriate, when that proposed rule is released.
Now, if hospital A fails to reinstate their application, that's fine. However, they must send their reinstatement by the September 1st deadline or the first business day in September so as to protect their application going forward. Once they rescind, they're done until they reinstate it. So that's why we suggest rescinding and reinstating the next year.
Mike: Okay. So, you mentioned individual applications and your answer there. Are the rules similar for a group application?
Scott: Similar? The answer is yes and no. If we use the same example for the group as we did with hospital A, the group must rescind as a group the first active year of their reclass.
So, in my example, for federal fiscal year 2019, being as it was the first active year of their reclass, all members or all hospitals of that group or county must rescind and reinstate. For year 2 and 3, individual hospitals or members of that group may rescind and reinstate individually. They don't need to go in as a group or rescind as a group.
Mike: So, let's talk about the Medicare Occupational Mix Survey because that's all a part of this. Is there anything new there?
Scott: Well, not much new. But federal fiscal year '19 will be the first year that the latest Occupational Mix Survey that hospitals completed last July is going to be used in the calculation of the final Wage Index.
As I've said, this data was submitted last July. And hospitals will also verify these amounts just as they're looking at their regular salary and hours. And the survey will be used for federal '19, '20 and '21.
And just as these labor markets has hospitals that drive the wage index, more than likely, these hospitals also drive the Occupational Mix adjustment. So that's something that hospitals should be aware of. You know the members of your county. You know the hospitals in your state. I would have a file that has all that just so you can monitor that.
Mike: That seems easy enough.
Scott: Yeah, kind of like a quarterback catching the touchdown pass in the Superbowl.
Mike: Ah, go Birds! Scott, thanks so much for joining us today.
Scott: Thank you, Mike.
---
Resources related to this episode