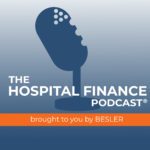 In this episode, we are joined by Jaycee Lin, Senior Consultant for BESLER's Reimbursement Services team, to discuss significant changes resulting from the FY 2020 IPPS Final Rule.
Podcast (hfppodcast): Play in new window | Download
Subscribe: Stitcher | RSS | More
Learn how to listen to The Hospital Finance Podcast® on your mobile device.
---
Highlights of this episode include:
Analysis behind CMS' projected 3% increase in Medicare spending on inpatient hospital services in FY 2020.
Reasons why CMS' planned changes with DSH are a possible cause of concern for hospitals. 
Information about the three wage index adjustments that were proposed by CMS in an attempt to re-align wage index factors for IPPS payments.
And more…
For a full expert analysis on the important changes in the FY 2020 IPPS Final Rule, download BESLER's 2020 IPPS Final Rule: Key Points. 
---
Mike Passanante: Hi, this is Mike Passanante and welcome back to the award-winning Hospital Finance Podcast. Each year, BESLER publishes its IPPS Final Rule Key Points publication, and this year we are proud to introduce our 2020 version. Joining me to discuss some of the key points that are in that publication is Jaycee Lin, who is a senior consultant on our Reimbursement Services team here at BESLER. Jaycee, welcome to the podcast.
Jaycee Lin: Thank you, Mike. Pleasure to be joining on this podcast.
Mike: That's great. So we're going to go through just a few of the topics here today on the podcast, and then at the end, we'll give you a link to the website where you can go and get the full publication for yourself. Jaycee, why don't you walk us through some of the rates and spending changes that'll be happening in the 2020 fiscal year?
Jaycee Lin: Yes, Mike. Yeah. Under the final rule, acute care hospitals that report quality data and are meaningful user of electronic health records, also known as EHR, will receive a 3.1% increase in Medicare operating rates. This includes a projected hospital market basket update of 3%, reduced by .4% productivity adjustment, a .5 add back from legislation. CMS is projecting an increase in Medicare spending on inpatient hospital services in fiscal year 2020 of approximately 3.4 billion, including an increase in new technology add-ons of .2 billion. Now, overall Medicare estimates the spending on inpatient hospital services will increase by a total of 3.8 billion, which equates to roughly a 3% increase over fiscal year 2019.
Mike: Thank you for that, Jaycee. Why don't we move on and talk about DSH, because there are some changes to DSH coming up that is definitely a concern to hospital providers.
Jaycee Lin: Oh, yes, Mike. Yeah. As you're aware, the DSH topic has always been an important factor for all the hospitals involved. And for this year, Medicare disproportionate share hospital payments are now based on 25% DSH Empirical formula, also known as the Medicaid Eligible Days, and 75% is based on the distribution of Uncompensated Care fund. Medicare DSH Supplemental payments increased from 8.27 billion to 8.4 billion in fiscal year 2020, and in 2020 CMS will use the worksheet S-10 data from the fiscal year 2015 cost reports to determine the distribution of uncompensated care payments. Now, due to public comments emphasizing on the importance of ensuring accuracy and consistency, CMS is conducting audits of fiscal year 2017 worksheet S-10 information to begin in the fall of 2019.
Mike: And Jaycee, this presents a problem because less than 20% of the facilities reporting S-10 were audited for fiscal year 2015, isn't that right?
Jaycee Lin: Yes, Mike. This data that is used will have the disparity between the audited facilities and then the unaudited facilities. CMS is directing the MACs to audit 2017, and we will need to watch the audit volume and see if CMS elects to skip the 2016 cost report in favor of the 2017 audited worksheet S-10 for the 2021 IPPS Final Rule. Now, in addition, there was little community feedback from the audit progress about items that should be done differently based on the audit findings.
Mike: Got it. Jaycee, the next topic I want to cover with you is wage index. There were a few major changes to the wage index. We don't have to go through all the detail here because it is included in the report, but why don't you just review what those changes were with us?
Jaycee Lin: Yes, Mike. Yeah. There are quite some important points that was published, and CMS has moved forward with three wage index adjustments that were first proposed this year in an attempt to realign the wage index adjustment factors for IPPS payments. These changes adjust the disparity of low wage index hospitals, rural floor calculation methodology, and the one year transition cap for the wage index factor adjustments.
Mike: Got it. And we have all of the detail on what those changes were in our report, which you can get by visiting besler.com/2020IPPS. Jaycee, thanks for joining us on the podcast today and sharing just some of the changes that are in store for hospitals this coming year.
Jaycee Lin: Oh, it was my pleasure, Mike, and thank you for having me on this podcast.
---