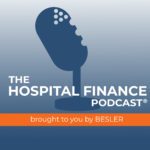 In this episode, we are joined by Karl Henkel, Associate at Ponder & Co., to discuss their study that looked at hospital mergers and acquisitions volume in the first quarter of 2019.
Podcast (hfppodcast): Play in new window | Download
Subscribe: Stitcher | RSS | More
Learn how to listen to The Hospital Finance Podcast® on your mobile device.
---
Highlights of this episode include:
Background on Ponder & Co. and the different sources of data used for their study.
What the biggest finding was on merger and acquisition activity in the first quarter of 2019.
Details on what factors were behind the transaction volume in the first quarter of 2019.
Thoughts on the question posed in the study: "Is M&A over for the foreseeable future?"
And more…
---
Mike Passanante: Hi, this is Mike Passanante. And welcome back to the Hospital Finance Podcast®.
Recently, Ponder & Co. released their latest Market Perspectives Report which looked at hospital M&A volume in the first quarter of 2019.
To talk with us about the results of their analysis, I'm joined by Karl Henkel who is an Associate in the Mergers & Acquisitions group at Ponder & Co.
Karl, welcome to the show.
Karl Henkel: Great to be here, Mike.
Mike: Karl, why don't you start out by telling us a bit about Ponder & Co. and what you do there.
Karl Henkel: Sure! Ponder & Co. is a healthcare financial advisory firm. We were founded in 1974. We've been providing financial services to not-for-profit hospitals and healthcare systems for more than 40 years.
I'm an Associate in the Mergers & Acquisitions group where we provide strategic advisory services to hospitals and health systems. And I have five years experience with Ponder.
As a firm, we're employee-owned. And we have offices and clients nationwide. Our main services are capital market and capital planning services which is helping hospitals and health systems access the debt markets, as well as strategic advisory services and integration services.
Mike: Great! Thanks, Karl. We're happy to have you on the show.
Why don't we dive into this recent report which looked at hospital mergers and acquisitions in the first quarter of 2019 as I mentioned. Why don't you tell us a little bit about how you developed your analysis and what you looked at.
Karl Henkel: Sure! Ponder has maintained a database of announced change of control transactions among short-term acute care hospitals since 2009. We follow the industry closely. And we use a variety of sources for our data. The best sources are press releases issued by health systems. When certain milestones are reached in a transaction process, like when a definitive agreement or letter of intent is signed. And we also use various news scraping services that pull from local newspapers and other sources to glean information on transactions that failed to receive water coverage, which will be your more rural hospitals and critical access hospitals.
We record transactions between not-for-profit health systems once they reach a definitive agreement as a letter of intent is typically non-binding and usually light on key affiliation details, especially in terms of board change of control provisions. Although we do record some for-profit transactions on letter of intent depending on the level of detail provided in the document.
Mike: So Karl, if you had to think about M&A activity in Q1, what would you say the overall theme was?
Karl Henkel: I'd say that, notably, the first quarter 2019, which we recorded 14 announced transactions, that was the fewest number of announced transactions of any quarter since the fourth quarter of 2009 which had seven.
But looking at that in context, this reduced volume is far from the lowest volume the industry has seen. To contrast even further, the first quarter of 2018, a year ago, tied the record for the most announced transactions with 40, nearly tripling the past quarter's total.
So, we see that volume is down, but there are still major transactions occurring and discussions happening. We don't expect the trend to continue throughout the year of reduced volume.
Mike: Okay. And in the report, you answered a few key questions to try to explain where we were and where we're headed. The first one was looking at factors that drove that reduced transaction volume. So, can you dive into that a little bit for us and explain why that volume may have been down in the first quarter?
Karl Henkel: Sure! The last several years have seen a very high amount of transactions, specifically mega-mergers which Ponder defines as any change of control transaction, but the smaller system has more than $1 billion in revenue.
So, in 2017 and 2018, there were 20 mega-mergers. Between those two years, the years prior had close to a dozen in 2015 and 2016 if you add those up.
But following these major transactions, systems often change gears into focusing on integration which can lead to a pause in the evaluation of other acquisition opportunities.
The first quarter of 2019 saw no mega-mergers announced, although Memorial Hermann and Baylor Scott & White did end their merger discussions which would then create a $14 billion mega-merger after they had signed an LOI in the fall of last year.
Another factor in the reduced volume is the absence of the publicly-traded for-profit health systems as acquirers. With the exception of HCA, none of the publicly traded hospital companies have announced hospital acquisition since 2016.
Additionally, the pace of divestitures among the for-profits has slowed, as they have largely already divested their isolated and disparate assets.
Mike: So Karl, you then, in the report, asked the question: "Is M&A over for the foreseeable future?" What are your thoughts on that?
Karl Henkel: No, we don't expect hospital M&A to materially decrease in the short-term. Scale is critical for a variety of reasons and to be prepared for new payment models. So we expect regional health systems to continue acquiring community hospitals in order to broaden their footprint and maintain the regional relevance.
Also, in the region earning calls, both CHS and QHC have announced divestitures in their divestiture pipeline. We know there will be future divestitures there. And the rash of mega-mergers recently should result in several additional divestitures of even some sort of market type assets as the newly-merged systems rationalize their portfolio of hospitals.
Mike: Karl, finally, in the report, you looked at the implications going forward. What can we expect for hospital M&A in the months and years to come?
Karl Henkel: Well, with the pressures for independent and community hospitals to affiliate only increasing, we see the reduced volume of transactions as a shift to more thoughtful and disciplined processes, processes that make sure both systems are benefiting from a transaction, not simply a takeover.
So, we expect the volume to be consistent, but not as high as it has been in recent years as these systems go through periods of divestiture.
Mike: So Karl, if someone would like to get a copy of the report, where can they go?
Karl Henkel: The report is available on our website, PonderCo.com. There's a link for insights, and that will take you to all of our white papers and case studies.
Mike: Karl Henkel, thanks so much for joining us today on the Hospital Finance Podcast.
Karl Henkel: Appreciate the opportunity. Thank you, Mike.
---