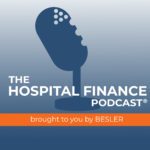 In this episode, we are joined by Laura Legg, Director of Revenue Integrity Solutions at BESLER, to discuss the recent AHIMA 2019 event where Laura was a featured speaker.
Podcast (hfppodcast): Play in new window | Download
Subscribe: Stitcher | RSS | More
Learn how to listen to The Hospital Finance Podcast® on your mobile device.
---
Highlights of this episode include:
Laura's impressions of the annual event that explores the latest in coding, auditing, and documentation.
How AHIMA is poising itself for a global expansion.
What new technology was being presented on the tradeshow floor.
How issues of compliance and the federal government were addressed during the conference.
And more…
BESLER's Revenue Integrity service addresses common mid-revenue cycle concerns such as auditing, revenue capture, denial avoidance and compliance.
---
Mike Passanante: Hi. This is Mike Passanante, and welcome back to the award-winning Hospital Finance Podcast. Each year, the Health Information Management Association holds its Health Data and Information Conference, and this year we were happy to report that our own Laura Legg was a featured speaker at the conference, and is there live. So we're going to have her back on the show now, just to talk to us a little bit about what's happening this year and some of the trends that she's seeing. Laura, welcome back to the show.
Laura Legg: Thank you, Mike.
Mike: So Laura, as I mentioned, we're just kind of interested in your impressions about this year's conference, maybe some of the things that you're seeing that are a little bit different, and just sort of generally what's out there for 2019?
Laura: Yes, Mike, I'm really happy to be here at AHIMA19, and the atmosphere is very energetic, so that is kind of an uplifting thing for everybody. I did come early this year and arrived for the Clinical Coding Meeting that was held over Saturday and Sunday. This is really the place to be annually for the latest regarding coding, auditing, and documentation. So I did attend some sessions. The main theme for the clinical coding meeting on Saturday and Sunday were auditing strategies, as well as correct coding. And I attended a couple of sessions on an ICD-10 Procedure Coding system that were really informative.
Mike: Laura, describe some of the overall themes that you're seeing across the event. What's changing in the industry that you think is reflected at this year's meeting?
Laura: Well, Mike, it's interesting that you would use the word "change" because that's really the word that we're hearing here this week at AHIMA19. We're hearing the word "change," we're hearing the word "collaboration" and that is from Dr. Harris, the AHIMA CEO, and she did give an opening general session this morning. Very inspirational, got several standing ovations. Her talk really recapped some of the AHIMA goals and strategies of 2019 and talked about AHIMA's new strategic plan as well as their new Mission Statement, which is empowering people to impact health. And one of the most interesting things she talked about today was the way AHIMA is going global. So they are, in 2020, slated to do some leadership conferences in Israel, some leadership conferences in Croatia, and also Dubai. So for us long-standing AHIMA members as well as the new members, it's very exciting news to know that our association is going global.
Mike: That's great, Laura. Just having been down on the tradeshow floor, have you noticed any differences in terms of what's being offered or what people are talking about? You hear things about artificial intelligence and all these new technologies that are sort of making their way into the healthcare landscape, what are you seeing with regard to that?
Laura: There is some new technology being demonstrated on the exhibition floor, for sure. There's also older technology that were still being used, being demoed. So I did visit several booths of folks that I know as well as folks I don't know, and there's really an atmosphere of excitement about the new technologies around, especially clinical documentation integrity and correct coding.
Mike: And speaking of correct coding, it was revealed just today that outpatient coding accuracy appears to have dropped a bit again, when you look at the Central Learning information that was released, so from last year into 2019, it dropped just a little bit down to right over 40%. What's your take on that, and what's the perception of that generally?
Laura: Well, that is pretty low, Mike, and so we really want to strive to increase that. There's a lot of things that go into coding a scoring exam, and some of the coders that I talked to feel like that's lower than what really represents the coding industry, but we'll have to wait and see. I know that Central Learning is going to continue to do this exercise to provide this information, and that's a good thing. I was a little bit disappointed, Mike, that they did not do the inpatient testing this year. But I went over to the booth and I talked to them about it, they assured me they would be doing both the inpatient and outpatient testing next year. So I'm sure that the coding specialists and experts will be sitting on the edge of their seat to hear the results of that.
Mike: And, Laura, one final question for you. I'm just curious as to whether or not is there any commentary around the federal government, any additional oversight compliance issues? Any concerns that people are talking about, out there?
Laura: Well, Mike, always compliance is a big topic here at this conference because AHIMA leaders and professionals are experts in compliance. So there are always a few sessions around compliance. I did notice this year had an increase in sessions regarding payment models, Medicare rules and regulations, so we do have a lot of people, I think, concerned about learning everything they can in those areas, especially new payment models that aren't yet well understood in our industry.
Mike: That's great. Well, Laura, we won't hold you back from the rest of the meeting here. We appreciate you coming by and talking to us a little bit more about what happened at this year's AHIMA event. For those of you in our audience who maybe are not familiar with Laura, Laura is our revenue integrity solutions director and she heads up a service line that can look at a variety of revenue integrity issues, from DRG validation through to auditing and compliance. So stop by Besler.com, check out all the insights that she and her team have put together and the services they provide. Laura, thanks again for coming by the show today.
Laura: Thanks for having me, Mike. I really appreciate it.
---