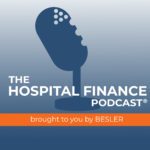 In this episode, we are joined by Dr. David Perrott and Megan Howard of the California Hospital Association to discuss the progress of MACRA and changes to the program that you should be aware of.
Podcast (hfppodcast): Play in new window | Download
Subscribe: Stitcher | RSS | More
Learn how to listen to The Hospital Finance Podcast on your mobile device.
---
Mike Passanante: Hi, this is Mike Passanante. And welcome back to the Hospital Finance Podcast.
As we enter year two of MACRA and approach the March 31st deadline for submission of MIPS reporting data, we wanted to check in with our friends at the California Hospital Association to get their perspective on the progress of the program and changes you should be aware of.
Today, I'm joined once again by Dr. David Perrott who is Senior Vice President and Chief Medical Officer at the California Hospital Association. Also joining us is Megan Howard who is the Senior Policy Analyst with CHA.
Dave and Megan, welcome to the program.
Dr. Dave Perrott: Thank you.
Megan Howard: Thank you.
Mike: So, let's start out. For 2018, several changes to the MIPS program are occurring, particularly around payment adjustments and thresholds for low volume and performance. Can you break those down for us?
Megan: Sure, I can take that one.
For the second MIPS performance year of 2018, CMS finalized a number of changes—some of them were required by the law, and some under the discretion of the agency that allowed them to phase in implementation over the first few years of the program.
So, next year, or this year's performance actually, the MIPS payment adjustment increases to a maximum positive or negative 5%. And that is up from 4% in 2017.
However, it is important to remember that this adjustment is budget neutral. So if more clinicians are successful in their reporting than are not, that full 5% upwards adjustment will not be available.
That brings me to the new performance threshold for 2018. From 2018 performance, that threshold will be set at 15 points. So this is the MIPS composite score that clinicians must meet or exceed to be eligible for a neutral or a positive MIPS adjustment. Those who fall below this number will receive a negative payment adjustment up to 5%. That will also be on a sliding scale with only those who get 3.75 points or below the full 5%. Those who score between about 4 and 15 will get a negative adjustment on a sliding scale somewhere between 5% and 0%.
So, for the 2017 performance year, this number was set at three points. And that allowed clinicians to just successfully report on one quality measure and avoid the negative adjustment. So this is CMS slightly increasing that number to phase in implementation a little bit slower. Fifteen should still be a pretty easy score for most to reach and get that neutral or positive adjustment. And CMS will continue to award an additional bonus payment to those who scored at 70 or above.
You also mentioned changes in the low volume threshold. This was raised significantly for the 2018 performance. Providers with less than or equal to $90,000 in part B charges or 200 or fewer part B beneficiaries will be excluded from MIPS in 2018.
So, this means that some clinicians who were eligible in 2017 will not be included in the year two program. We expect that nearly 600,000 clinicians will be excluded from MIPS in 2018 due to this increase low volume threshold.
Mike: That's great, Megan. And let's continue down the MIPS track. So, MIPS participants are also scored on several different categories. And there's a new one coming in this performance year. Can you tell us about those categories?
Megan: Sure! MIPS participants are scored on four categories—quality, advancing care information which measures EHR use, improvement activities and cost.
So, the cost category existed in 2017, but it did not contribute to the MIPS composite score. In 2018, this is going to account for 10% of the score. The two cost measures—Medicare spending per beneficiary and total per capita cost—are claims-based and require no additional reporting from clinicians. And in future years, we expect to see additional condition-specific, episode-based cost measures included in this category. Those are currently under development in CMS. And we will certainly be looking closely at the rule for 2019 for those measures in the cost category.
Mike: And the QPP final rule offered some clarification around APM's and extension of elements such as the risk minimum. What should providers know about the APM updates?
Megan: I think the most important thing for providers to know when looking for APM's is to keep their eye on the list that CMS puts out of what is considered an advanced APM.
So, as you mentioned, CMS extended its revenue standard for nominal financial risk. As a reminder, alternative payment models must meet a number of criteria including requiring participants to bear nominal financial risk in order to be considered advanced, and thus eligible for the 5% incentive payment.
So, this standard, I won't get too in the weeds and describe it because they're providers. The most important thing to know is it was extended through 2020. Previously, it was only in place for 2017 and 2018. And the most important thing to know is this will provide some stability for providers in knowing, if your APM is currently designed as an advanced APM, that same definition should exist through 2020 based on this standard at least.
I must also note that the QPP final rule offered a number of details on the forthcoming other payer advanced APM option that will allow clinicians to combine their participation in Medicare APM's with participation in other payer APM's—so in Medicaid or commercial plans or Medicare Advantage. So we will still be looking for more detail on that option in the proposed rule in Spring because that option becomes available in the 2019 performance year.
Mike: CMS has stated that it is keeping many things flexible in this year two of the program with an eye towards full implementation next year. What can providers expect to change after 2018?
Megan: So, originally, MACRA required CMS to really step up implementation beginning in the third year of the program or 2019 performance. However, in the recently passed budget deal, Congress made some changes to the statute that will allow CMS to maintain its flexible approach to implementation through 2021.
So, this includes allowing CMS to keep the weight of the cost category relatively low as clinicians gain experience with cost measures. Previously, CMS would have had to raise this category to 30% of the MIPS composite score for performance year 2019. Now, CMS is able to keep that score somewhere between 10% and 30% through performance year 2021. So we won't see a cliff that we were expecting to see next year.
Similarly, CMS has more flexibility in increasing the performance threshold, MACRA, whatever [require] the performance threshold to be set in mean or medium of performance by 2019. And without performance data for the first years of MIPS, it's hard to guess what that number would've been. But it would've likely been much higher than the 15 it's set up next year.
So, CMS now has the discretion to set this performance threshold at a number lower than the median or mean performance through 2021. However, they are required to increase it next year. So we expect to see a more phased in implementation that will allow CMS to slowly raise that score as clinicians gain experience with the program.
I would also note one other change recently included in the bipartisan budget act beginning with the 2018 performance year. The MIPS payment adjustment will apply only to cover professional services. The law previously applied the adjustment to Medicare Part B items and services, and then removing separately billed items from the MIPS adjustment payments. Medicare Part B drugs will not be affected by the MIPS adjustment.
Mike: And the Trump administration has committed to providing regulatory relief on a variety of fronts. And in their proposed budget for HHS, they outlined several changes to both the MIPS and APM tracks of MACRA in an effort to reduce the reporting burden of physicians.
Can you tell us specifically what they were proposing and what the likelihood may be that any of those proposals actually become policy?
Megan: Sure! So, we've heard a lot of chatter about the future of MIPS under the new—although not so new anymore—administration. This includes discussions at MedPAC where the commission recently voted on recommendations to tell Congress to eliminate MIPS and replace it with a voluntary value program which would be based on group-level claims-based measures. Buried in the president's fiscal year 2019 budget are some proposals that would significantly change the quality payment program.
While the proposal lacks detail, we can glean some information on the direction that they're going. And it's somewhat similar to the MedPAC discussions.
So, for MIPS, two categories would be removed under the proposal. That would be the Advancing Care Information and Improvement Activities categories. Then the administration said it would measure performance at the group level using broader claims-based and beneficiary survey calculated measures.
So, we don't really have any more information about what those measures would be, what the groups would look like. But they're at a similar direction that MedPAC went in their discussions.
But for changes to the alternative payment model incentives, the administration would eliminate the payment and patient count threshold that currently exists to determine if a clinician is eligible for the APM bonus payment. Instead, advanced APM participants would receive a 5% bonus only on the patients that are seen through that advanced APM. So that's rather than a 5% lump sum bonus on all physician fees scheduled payments if you qualify as a QP and qualifying APM, advanced APM participant as in the current program.
And now, as for the likelihood that these proposals become policy, I would remind all listeners that any changes to the structure of the program require congressional action. And as you know, Congress just passed its big budget [deal] with a number of important healthcare provisions. And we are unlikely to see another vehicle for big healthcare priorities especially as we get closer to the mid-term elections.
However, we do continue to see concerns raised about the burdens of MIPS and its viability as a program to really drive quality and cost improvements, including an article just this week in Health Affairs. And so we'll be keeping a close eye on any possible legislative changes.
Mike: I'd like to turn to the provider side now and really get your take on how they're viewing MACRA at this point. So, based on your interaction with providers, does it seem as though more of them are knowledgeable about their responsibilities under MACRA?
Dr. Perrott: Mike, I'd love to take this one and try to give you some insight as to our interaction with our physicians and physician groups in the state of California.
I think what has changed from the last time we spoke is that the terminology of MACRA or QPP at least now rolls off the tongues of physicians. They realize that it's out there. They understand there are obligations and financial risks associated with not participating in the program. So I think that that level has changed.
The challenges I think continue to remain the infrastructure and demands upon the practices to participate and provide the data as Megan has described just previously.
And so, what we're hearing is that the large physician groups or those physicians that are employed either through a large physician group and/or a hospital type affiliation seem to be well along the pathway into understanding and participating in MACRA and meeting those thresholds and time frame for submission of data.
What we continue to struggle with and understand is where the independent physicians in small groups—now I'm speaking of small groups of four physicians or smaller. Today, there was a great article in the New England Journal of Medicine Catalyst that was released coming out of Stanford that looked at the ACO's and those in participation in ACO's for small groups. And what's interesting is that, at least on the ACO side—not so much macro, but on the ACO side—the small groups seem to be doing quite well. And there seems to be a better understanding of that which then translates well into participation into MACRA.
So, I think it's really dependent upon the size of the group as well as their determination and their commitment to realize that, without going into participation, there's going to be a penalty. They will lose dollars in their reimbursement levels.
What is fascinating is there's still a small set of physicians no matter where they practice that somehow believe that this will be repealed. I think Megan did a great job of laying the land of what is happening in Washington DC. And Megan is watching and she's got a good finger on the pulse there as to the likelihood of that occurring.
But what I try to tell physicians is that you just really need to belong in a threshold that's low enough that, for this first year, it really should not be one that is a major obstacle to at least submit your information and meeting the deadline that's coming up next month.
Mike: And let's talk about that deadline because we did allude to that at the beginning of the show. What should providers be doing as we head towards that March 31st deadline for data submission? What happens if they miss that deadline?
Dr. Perrott: Well, I think that—and Megan can chime in on this—the March 31st deadline, the threshold is fairly low. As she mentioned earlier, it's one measure, one patient in a category. That's a fairly low threshold to meet.
So, submitting the data is the best recommendation I can make to any physician to meeting their deadline.
Megan, you may have other thoughts on that?
Megan: No, I would agree. For the 2017 performance period, the threshold is set at 3. All the quality measures have a floor at 3. And so CMS has allowed to take your pace for this first year. So I would just recommend any provider to report that one measure, one patient, avoid the penalty. If you miss that March 31st deadline, you will get that 4% penalty. If you report just one measure, you will avoid the penalty. If you report on 90 days of activities on 2017, and you do well, you could be eligible for a positive adjustment. And if you hit that 70-point marker for exceptional, you'll get a bonus payment.
So, I would just encourage everyone to take a look at their data and see what they can report just to avoid that negative penalty.
Mike: Dave and Megan, thanks for bringing us up to speed on MACRA and for joining us today on the Hospital Finance Podcast.
---