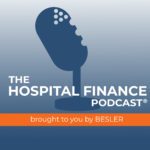 In this episode, we are joined by Sonia Delgado of Princeton Public Affairs Group to discuss out-of-network consumer protection law in New Jersey and nationwide.
Podcast (hfppodcast): Play in new window | Download
Subscribe: Stitcher | RSS | More
Learn how to listen to The Hospital Finance Podcast on your mobile device.
---
Highlights of this episode include:
Background and intended purpose of the New Jersey law, Assembly Bill 2039
Disclosure requirements for facilities
Changes to provider billing practices for out-of-network services
How this New Jersey law could provide a framework for laws in other states
And more…
---
Mike Passanante: Hi, this is Mike Passanante. And welcome back to the Hospital Finance Podcast.
Recently, New Jersey governor, Phil Murphy signed into law Assembly Bill 2039 which was designed to make changes to New Jersey's healthcare delivery system. And while the bill is specific to New Jersey, the issues it addresses are found in the healthcare system nationwide.
To help us understand more about this legislation and its implications, I'm joined by Sonia Delgado of Princeton Public Affairs Group. Sonia has over 20 years of experience in the analysis and management of legislative and regulatory issues in public sector, corporate and healthcare settings and is a widely known and respected thought leader around healthcare policy here in New Jersey.
Sonia, welcome to the program.
Sonia Delgado: Thank you! Happy to be here.
Mike: We're happy to have you. Sonia, can you briefly explain what this new law is designed to do and what led to its passage at this time.
Sonia: Certainly! The intended purpose of this new law is to protect consumers from surprise high cost bills that they incur with emergency and unintended care from providers who are not part of their insurance network.
The new law is also intended to create a more transparent system to resolve billing disputes, control rising healthcare costs that are attributed to inappropriate out-of-network billing, and ultimately, to collect more data to measure the effectiveness of these goals.
The concern over out-of-network billing is not especially new. In fact, it's an issue we've wrestled with for roughly 10 years. And several attempts have been made to address the issue without much success.
The impetus now to legislate action can be attribute in part to the escalation and magnitude of the problem. A recent poll suggests that one in seven people in New Jersey in the last year received an expensive medical bill they had not expected from their doctor, hospital or other provider.
So, we now have much more extensive media coverage of these exorbitant bills. We have many more complaints about the collection practices, and an estimated cost of $1 billion to New Jersey alone arising from this issue.
I think all of those things have created a tipping point for legislative action.
Mike: So, Sonia, let's talk about some specifics in the law. First, there are some very strict disclosure requirements designed to help patients recognize if they are engaging with an out-of-network provider. Can you tell us about those?
Sonia: Yes. This new law provides a framework for carriers, facilities that provide services on an out-patient/in-patient basis and healthcare professionals. In every instance, covered consumers must be advised of the in or out of network status of the facility and the provider in their health plan.
And the covered consumer must also receive information about how best to determine the network status of other providers that might be engaged to provide services.
So, as an example, if you're in a facility, and you expect to have a surgeon provide a service, and there are other services such as lab and anesthesiologist, then those providers must be able to share with you their network status.
Covered consumers have a responsibility, a financial responsibility, for in-network procedure costs. And the facility and the provider must disclose that that cost cannot exceed more than their covered co-pay, deductible or co-insurance as noted in the covered consumers benefit plan.
Facilities also have to disclose and make available a list of the facility's standard charges as well as the benefit plans in which they participate.
The healthcare professional has the added burden of providing information to consumers prior to the scheduling of a non-emergency procedure. First, they have to disclose whether they are out-of-network and the amount or the estimated amount that the consumer may be billed, including a relative CPT code.
The healthcare professional must also provide to the consumer to the extent that it's available the contact information of any other healthcare providers scheduled to perform or assist with the procedure.
So, health plans, those are facility and not professional responsibility. Health plans, also, must provide and disclose and have available on their website, and update their website within a reasonable period of time, the participation of their various providers.
Mike: And so, the bill also introduced changes to provider billing practices for out-of-network services administered on an emergency or urgent basis. Can you explain that for us?
Sonia: Well, this is actually a very important protection for consumers. And it's worth talking about a little bit because most people don't realize that if you're a covered consumer, and you received a medically necessary treatment on an emergency or urgent basis, and it meets the criteria defined by the Federal EMTALA law, the Emergent Medical Treatment and Labor Act, then the covered person can't be billed more than their deductible, co-payment or co-insurance amount for in-network services provided for in their own benefit plan.
And if that same covered consumer receives inadvertent out-of-network services or medically necessary services at an in-network or out-of-network facility on an emergency or urgent basis, the provider cannot bill more than their deductible.
So, in situations where there is a dispute about this, the carrier and the provider can't come to agreement on a reimbursement rate, the law provides for the use of an arbitration process. That arbitration process has a fairly rigid timeline and process. It's very bounded so that there should be some clarity around how a provider and a covered consumer use it.
Mike: Okay. And finally, Sonia, this is a New Jersey law, but the areas that it addresses clearly affect or could affect patients nationally. Do you think this law might provide the framework or perhaps the impetus for similar laws in other states?
Sonia: We know that at least 89 bills have been introduced in 28 states over the last couple of years since 2016. The Commonwealth funded a study that noted that at least 21 states have laws on the books that provide some amount of consumer production from balance and surprise bills in emergency departments and in-network hospitals. Many of these states, roughly six of them, have a comprehensive protection—states like California, Connecticut, Florida, Illinois, Maryland, and New York.
The laws vary in scope. So some states ban providers from balance billing altogether (as is the case in Florida). And other states have implemented dispute resolution requirements such as the arbitration process that we're going to use here in New Jersey in the event of a balance billing dispute between a provider and a patient.
It's important to note that in New Jersey's provider arbitration process, the goal is to provide for some reasonable speedy relief. So if a reasonable attempt to negotiate, reimbursement is not resolved, and the difference between the carrier and the provider's final offer is not less than $1000, then either party can initiate the arbitration.
Then the arbitrator's decision is basically limited to one of the two amounts submitted. And it's binding on both parties. And the arbitrator includes written findings and issues a result within 30 days after a request is filed. And payment is required within 20 days. So it's a fairly aggressive process.
Mike: Most definitely. Well, Sonia, thank you very much for coming by the podcast today and explaining more about this New Jersey law that affect out-of-network provider reimbursement. We appreciate it.
Sonia: You're most welcome.
---