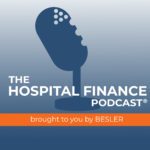 In this episode, we are joined by DeLicia Pierce, Director of Reimbursement Services at BESLER, to discuss the potential impact of the Trump budget proposal on healthcare
Podcast (hfppodcast): Play in new window | Download
Subscribe: Stitcher | RSS | More
Learn how to listen to The Hospital Finance Podcast on your mobile device.
---
Highlights of this episode include:
Information about the proposed cuts to Medicare
Changes proposed to hospital-owned physician practices
Funding changes in the proposed budget to address the opioid crisis
Proposed changes to the Medicaid program
---
Mike Passanante: Hi, this is Mike Passanante. And welcome back to the Hospital Finance Podcast
Right now, we're still looking at the potential impacts of President Trump's budget proposal. And to help clarify what's in that proposal and provide some additional detail around that, I'm joined today by DeLicia Pierce who is the Director of Reimbursement Services here at BESLER.
DeLicia, welcome to the program.
DeLicia: Hi Mike! How are you doing today?
Mike: I am great! Thanks for joining us. So DeLicia, let's jump right in.
How much are the proposed cuts to the Medicare program?
DeLicia: Right now, what we've seen in published data, it ranges anywhere from about $532 billion to $554 billion over a period of 10 years. Some of the sweeping changes that they have proposed involve eliminating Medicare payments for graduate medical education, uncompensated care payments to disproportionate share hospitals. And some of these cuts would be offset with different spending mechanisms. Those are pretty sweeping reductions that they have proposed to a plan that takes care of the seniors.
They've also talked about modifying the 340PD discount program and doing some other changes to the prescription drug programs.
So, the combination of all of these different cuts—and you can get these on the web and look at them—are estimated to be $554 billion in reduction over a 10-year period. That will put hospitals in a position—not only are they struggling now, they'll definitely be struggling to take care of the patients in the future and provide additional access points for the patient.
Mike: So DeLicia, there are some proposed changes to hospital-owned physician practices in this proposed budget. Why don't you tell us about those?
DeLicia: Thanks Mike. Yes, there are some proposed changes. What they are proposing is for Medicare to pay physician practices that are owned by hospitals. And those are typically called outpatient hospital departments. They get reimbursed differently than physician practices.
What they have proposed is for hospital physicians that are practicing as part of a hospital, as part of an outpatient department, to get reimbursed based off of the physician fee schedule. This would save Medicare approximately $34 billion. This will also significantly impact hospital operation and the ability to provide access points and coverage for hospitals, and clearly, it would hinder their ability to grow the continuum of care.
Thirty-four billion dollar cuts to hospitals for these physician services is definitely going to be a negative impact on the hospitals. And I am sure the physician organizations will be challenging this. I've seen lots of literature where the hospital organizations and the American Hospital Association has documentation in trying to get CMS to understand the implication of these changes.
Mike: We know that the opioid crisis is something that government at all levels in the United States are trying to cope with. Are there any major funding changes to address the opioid crisis in this proposed budget?
DeLicia: Yes. Some of the biggest proposal changes—and addition, it's really an addition to how they want to distribute the Medicare funds. What they're proposing is taking $10 billion to address the opioid misuse epidemic, also to provide funding for prevention programs to assist the painkiller and overdose reversal drugs.
And also, one of the big thing is to provide funding to distribute drugs that can reverse opioid drug-related overdoses to emergency workers so that they can save lives and potentially keep from having extended cost expenditures in emergency rooms trying to basically save lives. If they can get to them faster, give them the drug, it should be able to reverse some of the impact of the overdose.
Now, I'm not clinical. So I can't get into the detail about that. But there is a definite science out there that if they provide these drugs, emergency personnel, and if they can administer them upon seeing the patient while they're in emergency, they can reverse some of the dangers—and deaths clearly.
Mike: Okay. So let's pivot and talk about Medicaid for a minute. Were there any proposed changes to the Medicaid program?
DeLicia: Yes. One of the things that they have proposed with the Medicaid program is moving from the way that the Medicaid program is funded now and moving to block grants or per capita caps on federal Medicaid spending. This would tie growth rates for the Medicaid and payment rates to the new system to consumers spending—basically the CPI index which is very different.
Now, on a positive note, that would give states more control of their funding. But then how are they going to distribute those funds. And currently, Medicaid is one of the biggest payers specifically in most states. This gives patients access to care and how are they going to do that.
And it's kind of an unknown how the states will administrate these programs. It's going to be a sweeping change if they move to these block grants. And I don't think most states want the block grant. It seems to be a cost-saving measure, a way to control the cost, but it is going to definitely impact hospitals because most hospitals have a large Medicaid population.
Mike: Sure! It makes sense.
So, let's go on to another area. Let's look at some of the proposed changes to Medicare bad debts. Are there any of those in this proposed budget?
DeLicia: The proposal for the Medicare bad debt reduction is to take it from the current payment rate which is $.65 on the dollar for a Medicare bad debt that you can prove that you have done all the collection measures, you've returned it from agency. And so, right now, they're currently reimbursed 65%.
The proposal is to move this down to 25% over a 5-year/10-year period. Now, one of the things that we all seem to forget is bad debt payments are subject to sequestration.
So, currently, the regulation says we get $.65 on a dollar which, in reality, is $.63 because of the 2% sequestration. I don't think that they have made any provision to give back the sequestration. So really, we're going from $.63 on a dollar to $.23 on a dollar.
And this is a big impact to hospitals because, really, this is a mechanism to reimburse hospitals for the co-insurance and the deductible that the Medicare beneficiaries clearly can't pay. And they don't pay 100% of it. They're paying 65%–depending on how you talk to—or 63% if you factor in sequestration. So it's not giving 100% of those dollars back to the hospitals, but it's at least assisting the hospitals to cover the patient who are—
The elderly patients, they can't afford co-insurance deductibles. And if you follow the rules and regulations, you do get that $.63 on a dollar or $.65 on a dollar, whichever way you want to look at it. And taking this away, dropping it down to 25%, that's a dramatic reduction for hospitals, especially the rural hospitals that need every dime that they can get.
So, with that being said, they've proposed these changes. I think, somewhere, I read that there was a proposal where they were planning on eliminating Medicare bad debt payments over a 5-year period altogether—not just leaving it at 25%, but taking it away at 100%.
So, these dollars are some of the ways that hospitals get additional funds to cover for the elderly and make sure that they can cover operational expenses, capital costs. And it is a big number for hospitals.
So it's not something that you want to see go away. And it definitely impacts the needy population which is the elderly.
Mike: Well, certainly, we're just scratching the surface of the proposed budget here. And Congress will have to wrestle with these proposals in the days and weeks to come. But certainly, that gives us some insight into the priorities of the administration. And I think the things you pointed out here today are of the utmost importance to hospitals. So thank you for bringing those insights to us today, DeLicia.
DeLicia: Okay, thank you.
---