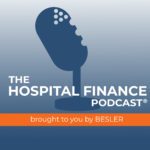 In this episode, we are joined by Mike Merola, founding partner of Winning Strategies Washington, to discuss the potential return of earmarks to the federal budget and how that could affect hospitals.
Podcast (hfppodcast): Play in new window | Download
Subscribe: Stitcher | RSS | More
Learn how to listen to The Hospital Finance Podcast on your mobile device.
---
Highlights of this episode include:
History of earmarks and how they benefited hospitals
Why a moratorium on earmarks was approved by Congress in 2011
Why there is a potential for a return of earmarks
What hospitals should be doing to prepare for a potential return of earmarks
And more…
---
Mike Passanante: Hi, this is Mike Passanante. And welcome back to the Hospital Finance Podcast.
Today, I'm joined by Mike Merola, a founding partner of Winning Strategies Washington, a leading government relations firm based in Washington DC that specializes in hospital issues.
Mike has joined us today to discuss the potential return of earmarks to the federal budget and how that could affect hospitals.
Mike, welcome back to the show.
Mike Merola: Thanks Mike. It's good to be back. I always enjoy spending time with you and your audience.
Mike Passanante: We enjoy having you on.
Mike, for those in our audience who may not be familiar with an earmark or how hospitals benefited from them in the past, could you give us a little history?
Mike Merola: Sure! It's a good place to start.
So, earmarks, which are also known as congressionally directed spending, at the most basic level are provisions that allocate a certain amount of money for specific projects, groups or programs in a piece of federal legislation.
They were predominantly found in the annual appropriations bills for hospitals. There were various accounts that members of Congress could include a line item for in a bill that funds the Department of Health and Human Services. But they also existed in various pieces of tax, trade and transportation, water infrastructure bills. And hospitals, to one degree or another, are also able to take advantage of those opportunities.
Mike Passanante: And Mike, they went away in 2011. Why did they go away?
Mike Merola: Sure! I think there was a real concern both on and off Capitol Hill that the process had run amuck. House Republicans approved a moratorium on earmarks in an effort to reign in so-called "pork barrel spending."
The effort was led by former house speaker, John Boehner, who made it a point to never request an earmark throughout his long congressional career.
Unfortunately, there had been some very high-profile examples of what are termed "bad earmarks" such as the infamous bridge to nowhere in Alaska as well as some headline-grabbing corruption cases like with former congressman Randy Cunningham, a Republican from California who took bribes in exchange for earmarks and spent seven years in prison.
The ironic thing though is that in the years leading up to the moratorium, and in response to some of those examples that I just cited, Congress had taken concrete steps to make the process more transparent and to demand accountability by members for the earmarks they were soliciting.
For example, each member had to attach their name publicly to the earmark and provide a justification as to why it met an important public need and the goals of the federal program where the funding would come from.
I think it's also important to know for your audience that earmarks did not increase the amount of federal spending every year. Congress would agree on the top-level spending amount for certain accounts, say the Health Resources and Services Administration or HRSA at HHS. And then, below that line, they would decide to earmark a certain amount of funds for certain projects.
Today, the process for allocating the money is exactly the same except Congress doesn't get a say on where the funding goes. Bureaucrats in the administration gets to make all of those decisions.
Mike Passanante: Okay. So, as we intimated at the beginning of the episode, there is a potential for the return of the earmarks. Why is that?
Mike Merola: Well, I think the simplest explanation is that the current system is actually worse than what Congress attempted to reform. Elected leaders have lost the ability to make spending decisions to bureaucrats and political appointees which has really reduced transparency, damaged accountability and raised questions about how agencies are selecting projects.
For example, a recent government accountability office or a GAO report found that the Transportation Department had not documented key decisions deviating from established procedures and internal controls when awarding competitive grants. The GAO also noted that these grants raised questions about the integrity of the selection process.
So, before the earmark ban, they were at least publicly debated on the House and Senate floors. They could be critiqued by members and by the media. But today, agencies are really doling out grants with no objective criteria. No one can challenge the selection of projects.
I'm sure your audience is also well aware that the legislative gridlock level in Washington is at its highest level ever. And since Congress gave up earmarks, the wheels of the legislative process had nearly ground to a halt. And while earmarks are not a cure-all for this, they do provide a common reason for members to support legislation overall, helping the process run far more efficiently than it has since the ban was enacted.
And additionally, and specific to hospitals, because federal healthcare programs are largely restricted to advance research, which can only be carried out by large and sophisticated academic medical centers, community hospitals are often completely left behind when it comes to federal funding. So earmarks can help level that playing field.
And from the perspective of rural areas and hospitals, federal formula funds and programs often favor more populated urban centers. So the ability to direct spending by Congress would advance the interest of rural areas and small towns as well.
Mike Passanante: Mike, has Congress released any type of guidance regarding how a new earmark process might work?
Mike Merola: Yes. Congressional leaders have confirmed that any return to earmarks would include, at a minimum, a requirement that members publicly disclose earmarks they're seeking and in behalf of whom, a prohibition on for-profit entities seeking or benefiting from earmarks. And they always add the caveat that they could add additional limits and requirements to be determined.
So, we expect to know more after the dust settles after the mid-term elections on November 6th.
Mike Passanante: And what do we NOT yet know about that proposed process?
Mike Merola: Sure! Well, we don't know exactly what entities would be eligible for earmarks. Although we strongly suspect that it will focus on non-profit and public entities, or specifically what kinds of projects, initiatives and funding needs could be supported by them.
We also don't know which existing or new [pots] of funding will be eligible for earmarks and how expansive those opportunities might be.
Mike Passanante: Mike, what should hospitals be doing now to prepare for this potential opportunity?
Mike Merola: Sure! Well, I think there's a really strong likelihood that the process of submitting requests for federal fiscal year 2020 will occur in a highly truncated window of time in the first quarter of 2019, possibly with committee deadlines as early as February 2019.
So, even with all the unknowns, if one of your hospitals wants to seek earmark funds, the time to start is now. And the types of things they need to consider for the following. There's a few items to keep in mind.
Their member of Congress is going to have to put their name on the request. So does it meet the highest test of public good and use of taxpayer funds? And would the hospital be willing to publicly defend the request?
Two, does it serve you and only you? Or does it serve a broader constituency?
Does it force a member to play Solomon along valued constituents? Or does it allow your member to make a significant and unique difference in an area of key interest to them and service to their constituents?
Is it a local state, regional or federal priority or a model program that can be learned from and replicated across the country?
And are there funds otherwise available through [programmatic formula], reimbursement or competitive funding sources for the same activity? And if so, has the hospital sought those sources of funding and with what outcome?
So, this is the kind of information they should start to be putting together.
Mike Passanante: That's great! Are there any other considerations around federal funding that our audiences should be paying attention to?
Mike Merola: Well, just to keep in mind that if they do return, we're convinced there's going to be a feeding frenzy around these funds. So members are likely to get hundreds of requests for funding from hundreds of worthy constituencies.
So, hospitals need to make sure that their request stand out, meet all of the tests that we've talked about, and secure the greatest degree of enthusiasm and support from their elected members.
I think it's also worth mentioning that federal fiscal year '19 which started on October 1 represents a unique opportunity where significant competitive funding resources were in place at the beginning of the fiscal year. Usually, because of the budget breakdown, Congress doesn't get to finish the annual appropriations process until December or even January which is well into the fiscal year for a variety of reasons that they got their act together this year. And most of the budget is in place.
And this budget allowed for significant increases in healthcare funding. So there's a significant amount of competitive dollars out there as well. And so I would just encourage your hospitals to not lose sight of that. Ninety-nine percent of federal dollars, even if earmarks return, are going to flow through this programmatic process. And so they should consider pursing and looking at those types of opportunities as well.
Mike Passanante: And if you're in a leadership position at a hospital, and you're thinking about earmarks, and you're interested in learning how you can position an earmark request, feel free to email us at update@besler.com, and we'll be happy to have that conversation with you.
Mike Merola, thanks so much again for joining us today on the Hospital Finance Podcast.
Mike Merola: Thanks Mike. Be well.
---