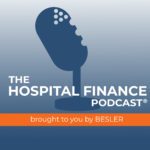 In this episode, we are joined by Mary Devine, Director of Revenue Cycle at BESLER, to discuss what providers need to know about the transition to the Medicare Beneficiary Identifier (MBI).
Podcast (hfppodcast): Play in new window | Download
Subscribe: Stitcher | RSS | More
Learn how to listen to The Hospital Finance Podcast on your mobile device.
---
Highlights of this episode include:
History behind the MBI (Medicare Beneficiary Identifier) initiative
Why MAC portals are key to identifying a patient's MBI
What providers can do to ensure proper Medicare IME reimbursement
And more…
---
IME reimbursement will be impacted as CMS converts patients to the MBI (Medicare Beneficiary Identifier). BESLER's IME Revenue Recovery service can review your IME shadow billing process to ensure you receive optimal reimbursement going forward.
---
Transitioning to the Medicare Beneficiary Identifier (MBI)
Medicare is in the process of transitioning Medicare beneficiaries away from the HICN (Health Information Claim Number) to the MBI (Medicare Beneficiary Identifier) which will cover transactions such as billing, eligibility status, and claim status. The MBI purposefully does not include Social Security numbers in an effort to curtail the potential identify theft of Medicare recipients. Even though the new MBI is not Social Security-based, it is still confidential and should be protected as personally identifiable information.
Each person enrolled in Medicare will receive a new MBI and a brand-new ID card. The transition to the MBI began in April of 2018 and is expected to be completed by December of 2019.
Medicare began this transition by issuing MBIs to all new Medicare recipients for enrollments starting in April 2018 and moving forward. For existing beneficiaries, Medicare started mailing out new cards by state in April of 2018 and will continue doing so until the process is complete.
What you need to know about the Medicare Beneficiary Identifier (MBI)
Medicare/Medicare Advantage patients are most likely already visiting your hospital with their MBI card in hand.
All MAC portals (MyCGS.com as an example) are updated and functioning with the new requirements for the MBI so you can use them to confirm patient coverage.
If a patient has a new MBI and the card has been mailed, the portal will no longer provide the HICN, it will return the MBI instead.
If the card, has not been mailed, it will show the MBI as not valid.
If you are using the Common Working File (CWF)/(HETS), you must use a valid HICN or MBI to confirm benefits.
During the transition period, if you use a HICN and a new MBI card has been mailed, the system will return that information to you.
If a new card hasn't been mailed, you will receive the HICN confirmation only with the existing benefits.
After the transition, you will receive an error if you enter a HICN for Medicare and Medicare Advantage patients. The eligibility information will be the same.
The MAC portal is the best way to obtain the MBI if the patient does not have their card with them. As a provider, without a copy of the MBI card, you will need a patient's Social Security number and birthdate to confirm the MBI via the available provider portals. This could present an issue for providers, as the Medicare population is being coached to protect their Social Security number and may be reluctant to share it.
What you can do now to ensure proper future Medicare IME reimbursement
As a provider, it is critical you utilize this transition period to make sure your registration procedures are working efficiently, and you are using the information available in the portal and the CWF to capture the MBI.
Your Managed Medicare patients will have the new MBI card and your registration staff will need to enter that information to bill your IME claims, if relevant to your facility.
If you haven't done so, audit or have a vendor audit your IME billing process to ensure you are capturing all of your potential IME revenue. This retrospective review should confirm that shadow claims were submitted on behalf of all Medicare Advantage patients. A sound registration process will capture both insurance IDs and allows for proper IME billing.
Once the transition to the MBI is complete, determining eligibility during registration without an MBI will be impossible. Now is the time to check that your processes are operating efficiently and correctly to ensure proper reimbursement going forward.
---