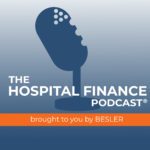 In this episode, we are joined by BESLER's DeLicia Pierce to discuss important upcoming deadlines related to Wage Index review that you should be aware of.
Podcast (hfppodcast): Play in new window | Download
Subscribe: Stitcher | RSS | More
Learn how to listen to The Hospital Finance Podcast on your mobile device.
---
For more on the Medicare Wage Index, check out our SPECIAL REPORT: Medicare Wage Index: What it is, how it works, and why it is important.
---
Highlights of this episode include:
Important dates to remember for the remainder of 2018
New deadline date for hospitals to dispute data corrections made by CMS
Important dates to remember in 2019 for final Wage Index numbers
And more…
---
Mike Passanante: Hi, this is Mike Passanante. And welcome back to the Hospital Finance Podcast.
Now, the wage index is something that's so important to reimbursement for hospitals across the country. And there are some key upcoming deadlines that you should be aware of. And to help us understand what those deadlines are, we're joined by DeLicia Pierce who is the Director of our Reimbursement Services Team here at BESLER.
DeLicia, welcome back to the show!
DeLicia Pierce: Hi Mike. Thank you. Good morning.
Mike: So, DeLicia, there are several deadlines coming up in the very near-term here. Why don't you walk us through what some of those are?
DeLicia: Hi Mike. And I'm going to start with the upcoming deadlines because we have a timetable that CMS has released. But I'm not going to go back to the May/June. I'm going to start with September for 2018. And that's the deadline for hospitals to request revisions to their S3 wage data for the current year 2016 occupational mix.
And they also released on May 18th the preliminary PUF files. So if you haven't looked at that PUF files, you need to go ahead and do that because the MACS have approximately 10 weeks to complete their reviews.
So, you want to make sure that if you notice anything incorrect in the data, that you actually reach out to the MACS and let them know.
There's a November 6 deadline for the MAC's to notify the state hospital associations if hospitals have failed to respond. That's been new in the last eight years. There's a deadline of November 16th for the MACs to complete all their desk reviews for hospital wage index data and to make sure that they get that into the deck in electronic format.
Occupational mix is sent to the deck as well in an Excel spreadsheet. So make sure you meet those deadlines.
And then, also new is there's a deadline for hospitals to dispute data corrections made by CMS, of which the hospitals are notified after January 31st, 2019. So make sure that you look at that.
The request must be received by CMS by this date in order to basically do your appeal. And if you go to the CMS website, they have the appeal's email address which is wageindexreview@CMS.HHS.gov. And you can send hard copies. I would highly recommend sending an electronic copy and a hard copy if you're appealing anything just so you have two sources, two correspondents to prove.
Also, April and May 2019, it's the date when the proposed rule is going to be published. So you'll want to make sure that you've looked at that because they'll probably release another PUF.
And they're going to give us a 60-day comment period. So if you're requesting geographic re-class, you have 45 days to withdraw your application if there's a reason you want to withdraw it.
In early April 2019, the wage index data will be sent to CMS for verification. So keep those dates in mind. And then, also January 31st, 2019, they will release a revised 2020 wage index occupational mix files. And they'll be on the CMS website in PUB format. We're all pretty used to having to do those and work with them.
So, also, February 15th, 2019, deadlines for hospitals to submit their request.
And in March 22nd, 2019, deadline for the MACs to transmit revisions to data HCRIS. So make sure you look at that.
Then there's an April 4th, 2019 deadline.
And sometimes, these deadlines will change depending if the MAC has some kind of delay. But for the most part, everything on the timeline schedule, you need to be very diligent in looking at the dates of what you need to do as a provider.
And so then, in April 2019, they'll release the wage index numbers for the upcoming year. And then, May 30th, there's going to be a deadline for submitting corrections.
And these are very similar every year, just the day may change if it's a weekend.
And then, in August 1st, 2019, we expect to have the publication of the final rules. And the final rules go into effect on October 1st for in-patient and January 1st, 2020 for out-patient.
Mike: DeLicia, what date will the final wage index numbers be released?
DeLicia: Typically, around August 1st, 2019 for the upcoming year. And they say August 1st. But sometimes, it's delayed. I can tell you, this year, the proposed rules were released about almost two weeks later than they had in the previous year.
So, everything is dependent on what's going on with CMS. But for the most part, the final rules are released in August, and they go into effect October 1st for in-patient only.
Mike: DeLicia, thanks for that. Certainly, lots of upcoming dates to be aware of for hospitals that are looking to have a wage index review done.
Of course, BESLER is one of the national experts in that. So please feel free to go check out the resources related to the wage index at www.besler.com and look for our Reimbursement Services page.
DeLicia, thanks so much for joining us today on the Hospital Finance Podcast.
DeLicia: Thank you Mike.
---