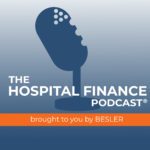 In this episode, we are joined by Jeff Wolf, Director of Reimbursement Services at BESLER, to discuss highlights from the recent HFS Provider User meeting.  
Podcast (hfppodcast): Play in new window | Download
Subscribe Apple Podcasts | Android | Stitcher | RSS | More
Learn how to listen to The Hospital Finance Podcast® on your mobile device.
---
Highlights of this episode include:
Background on the HFS Provider User meeting which took place in Boston, MA from August 22-23, 2019.
Why the issue of S-10 and bad debts was such a hot topic at the meeting.
What providers can do to meet Medicare requirements when filing bad debts.
A review of the changes and edits made to CMS' Medicare cost report forms.
And more…
Download our SPECIAL REPORT: The Common Elements of Uncompensated Care to learn about the interdependence of S-10, bad debts, and DSH as they relate to uncompensated care.
---