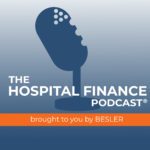 In this episode, we are joined by Vincent Mitchell, Sr. Reimbursement Consultant at BESLER, to discuss the most significant changes resulting from the recently released Outpatient Prospective Payment final rule.
Podcast (hfppodcast): Play in new window | Download
Subscribe: Stitcher | RSS | More
Learn how to listen to The Hospital Finance Podcast on your mobile device.
---
For this content plus additional charts and information:
No form required
at the end of this presentation
---
Highlights of this episode include:
How the OPPS addresses the various components of cost that affect hospital outpatient services.
Why the increase in payment rates was a key theme in the FY 2020 OPPS Final Rule.
What procedures were removed from the Inpatient Only (IPO) List?
A review of the procedures added to the ASC list of covered surgical procedures.
And more…
---
Slideshare: 2020 outpatient prospective payment system final rule key points
---