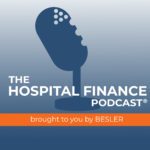 In this episode, we are joined by BESLER's Laura Legg to discuss the implications of the IPPS proposed rule for 2020 and the significant changes in store for ICD-10 and the IPPS rule.
Podcast (hfppodcast): Play in new window | Download
Subscribe: Stitcher | RSS | More
Learn how to listen to The Hospital Finance Podcast® on your mobile device.
---
Highlights of this episode include:
Background on the 2020 IPPS proposed rule and the timeframe allowed for comments to be made to CMS.
What acute care facilities can expect to see from the proposed rule.
Details on some of the historic changes being proposed by CMS, including an increase to the wage index for low wage index hospitals.
A look at the many ICD-10 coding updates and MSDRG changes in the proposed rule.
Six steps that hospitals can take to prepare for the publication of the final rule
And more…
The Medicare Wage Index is mentioned prominently in the 2020 IPPS proposed rule. Tune in to our related podcast episode, "Factors that could affect the future of the wage index" for insight from BESLER's Robert Mahoney.
---
Mike Passanante: Hi, this is Mike Passanante. And welcome back to the Hospital Finance Podcast®.
As it happens yearly, the IPPS Proposed Rule is now out for 2020. And to help us understand the changes that are being proposed in that rule, I'm joined by Laura Legg who is the Director of Revenue Integrity Solutions here at BESLER.
Laura, welcome back to the show!
Laura Legg: Thank you, Mike. I'm happy to be here.
Mike: So Laura, why don't you start out by updating on the publication of the 2020 proposed rule and how long the comment period is.
Laura Legg: Yes, Mike. Well, the 2020 IPPS Proposed Rule was released by CMS on April 23rd 2019. There are significant changes to the IPPS rule as well as changes to the ICD-10. I did research those changes and have some comments for you today. This is a long rule. It's, I believe, just over 1800 pages.
But CMS is requesting comments regarding the proposed rule. And those comments are due by June 24th of 2019.
Now, if you'd go into the proposed rule, you can see a lot of the reasoning that CMS has used for the changes. And if you're interested, that is a good review for things that might pertain to you particularly.
It's a long read to try to envelope the whole thing, but CMS is taking comments. And in order to give comments, Mike, you have to reference CMS-1716-P as well as you can upload your comments to www.Regulations.gov or you can mail them to the Centers for Medicare and Medicaid. Just go to their website, and they'd give you instructions.
Mike: Perfect! Laura, let's dive into the implications of the proposed rule.
From what a payment standpoint, what can acute care facilities expect to see?
Laura Legg: Well, Mike, in summary, there's a lot of rule changes for finance folks. And those include the wage index calculations. There are big gains for rural hospitals and significant cuts for a high wage index hospital.
There are also changes to the new technology payments, 65% of costs from the previous 50% of costs. There are new quality measures, new requirements for long-term care. Acute care hospitals could get the special payment rates. And there are a number of DRG reassignments.
So, these are all payment changes and not utilization changes. The final payment change proposed by all the changes together is a positive 3.5% for acute care hospitals.
Mike: Great! Anything to the positive is always welcome. Laura, can you address some of the CMS priorities brought forth in the proposed rule?
Laura Legg: I can! We were promised by CMS that there would be historic changes this year. And I think that they did keep that promise.
And one of their promises was around rethinking rural health. It's a theme recently unveiled by CMS and they were true to their word in the 2020 IPPS proposed rule.
The CMS administrator, Seema Verma, said in a statement: "One in five Americans are living in rural areas. And the hospitals that serve them are the backbone of our nation's healthcare system." And as you know, Mike, we do see regularly in some of the industry publications about smaller hospitals closing. So, I do think CMS has concerns about that.
And really, it's important to understand some of the obstacles that rural America faces in the current healthcare system. And so, CMS is really committing to address those issues. And some of those issues that she talked about were poverty, more chronic conditions and a high uninsured and under-insured population. So, this has led to Medicare making some payment changes to stabilize those rural hospitals.
One of those change is that the in-patient hospital wage which specified how in-patient payment rates are adjusted to account for local differences in wages that hospitals pay in respected labor markets. The proposed changes are intended to measure differences in hospital wage rates across geographic regions and will update annually based on wage data reported by hospitals.
Now, Mike, hospitals located in areas with wages less than the national average receive a lower Medicare payment rate than hospitals located in areas where wages are higher than the national average. An example of that, if you have a hospital in a rural community, it might receive a Medicare payment for about $4,000 for treating a beneficiary admitted with pneumonia; while a hospital in a high wage area could receive Medicare payment of nearly $6,000 in the same case due to their wage index differences.
So, in response to feedback it received and former comments, CMS is proposing to increase the wage index for low wage index hospitals. This change will ensure that people living in rural ares have access to high quality, affordable healthcare.
Another subject that's in the spotlight, Mike, is technology. To ensure that Medicare payments supports broad access to transformative technology, CMS is proposing several payment policies. These includes proposing to change a new technology add-on payment which provides hospitals with additional payment for cases with high cost involving new technology, including potential new antimicrobial therapies.
This increase will apply to all technologies receiving add-on payments starting October 1st 2019. That means that when a physician determines a Medicare beneficiary needs a qualified new therapy, the hospital which the therapy has administrated will be more able to completely cover its cost.
So this change will promote patient access and reduce the uncertainties that innovators face regarding payments for new medical technologies for Medicare beneficiaries.
So, this is really important, Mike, to keep Medicare beneficiaries receiving the same level of technology care as other patients.
CMS also is proposing to modernize payment policies for medical devices that meets the Food & Drug Administration's breakthrough devices designation.
So, CMS is proposing to waive for two years the requirement for evidence that these devices represent a substantial clinical improvement. Waiving this requirement would provide additional Medicare payment for these technologies over a period of time while real world evidence is emerging.
So, Medicare beneficiaries will not have to wait to have access to the latest innovation.
So these are, I think, really good improvements, Mike.
One thing that's important to note that kind of surprised me was there are no proposed changes to observation status, patient notifications or the two-midnight rule.
Mike: Great breakdown, Laura. Laura, for the MSDRG changes and coding updates, do o the changes appear to be substantial?
Laura Legg: Well, Mike, as a coder, I'm surprised at some of the changes. There are some good changes. But I guess the most important thing to note is there are many changes.
The proposed rule includes changes to complications and co-morbidities and major complications and co-morbidities of nearly 1500 diagnosis. So this is really a historic change for the coding world.
Coders will be really required to forget everything they know about CC's and MCC's and basically start over. So there's going to be a learning curve to these coding changes, Mike.
The CDC, along with CMS, has proposed a net total of 252 diagnosis codes and some new procedure codes also. Important to note, CMS has requested the elimination of a set of more than 1500 procedure codes. So that was a little bit surprising.
So, we're starting to see ICD-10 procedure coding system kind of level out a little bit. They are bringing down the number of codes and eliminating some of the redundancy in the system. So that's a good thing for coders.
The new diagnosis codes can be found at table 6A and include code changes in 10 out of the 21 ICD-10 chapters. So that's pretty substantial.
The new procedure codes can be found in table 6B at the website with the proposed rule. And they are extensive, as I've said, more than 1500 procedure codes being eliminated.
These are a number of different sections in the procedure coding system, Mike—of course, the med surgical section which is the largest, the administrator section, measuring and monitoring section as well as the new technology section.
And the new technology section is a place that providers really want to pay attention to because CMS is doing substantial reimbursements for those particular codes.
One of the most substantial proposals in the change is in the classification of severity designation for diagnosis codes. And by that, what I mean, Mike, is that some of the diagnosis codes are losing their major complication co-morbidity status, and some codes will be gaining that status.
The same is also true for the CC or the complication/co-morbidity status of some codes. Many diagnosis codes will no longer have an MCC or a CC designation. And that will have a profound financial impact in the DRG world.
The good news is that a total of 183 new CC changes have been proposed. So that will help make up ground for some of that. This includes making the code for homelessness a CC or complication/co-morbidity which really is projected to bring considerable dollars into some hospitals.
So, shifts are in the areas of neoplasm, circulatory system codes, skin and subcutaneous tissue injury and poisoning, and also in factors influencing healthcare status codes.
Many active neoplasm codes are moving from CC to non-CC status. So that's something I think we're going to see comments about back to Medicare.
Acute mycardial infarction codes are moving from MCC to CC status. And surprisingly, the pressure ulcer codes have many changes going from MCC to CC status, which I think we'll all see comments about because of the extra resources that is required to care for pressure ulcers.
There's also a shift, Mike, from OR to non-OR designation for the proposed PCS code. So that's a big change.
And Mike, finally, there are 13 MSDRG changes that have been proposed.
But all in all, when it comes down to it, the coding and documentation change are proposed to be a +0.5% for acute care hospitals.
Mike: Laura, what should our listeners be doing now to prepare for the publication of the final rule?
Laura Legg: Well, my thoughts as I reviewed the rule, Mike, I've put into about five steps or six steps that I think hospitals can do before the proposed rule. And the first one is keeping in mind that the rules is only proposed this time, and it's still available to respond and comment before June 24, 2019. So I really want to encourage hospitals to look over these rules, look over the coding changes, and respond.
I was recently speaking at the Washington HIM meeting here at the State of Washington where I live. And really, as I presented some of these new proposed changes, I really encouraged my audience to comment. And some people were concerned about the financial changes.
But six steps that you can do, Mike, for strategies include really having your finance group at your hospital review the changes and model their expected impact to your facility. It's good to be prepared for that.
Number two, Mike, review the new technology add-on changes and determine if any of the new applications will impact you. And then, ensure that this technologies are in your chargemaster. As I've said earlier today in the podcast, Mike, these technologies really do have a pretty high payment for facilities. So you want to be sure that you're not missing any of those.
Number three, I would recommend reviewing the DRG encoding changes and determining if any coding or CDI education is needed. And this has got to be an absolute yes for everybody.
Mike, with this many changes, coders are just going to have to relearn those CC's and MCC's.
Number four, educate physicians and CDI staff on changes on the severity statuses because there are so many. And really start to ask the question how that's going to affect documentation to capture those additional 183 CC designations.
Number five, Mike, is update facility coding guidelines and policies and procedures that provide direction for coders on the affected ICD codes and chapters, so really providing your coders with instruction mainly on those gray areas regarding these changes.
And last but not least, Mike, what I think is really important is arrange for the performance for both internal and external coding audits to ensure the new procedure diagnosis and codes are used correctly. We don't want our ICD-10 accuracy to drop.
And especially, make sure that your coders are capturing those additional 183 CC's so that your revenue can be positively impacted by that.
Mike: Laura, thank you for the summary today. Of course, we'll be talking about these proposed rules on the podcast in the months to come and leading up to the final rule being issued. And of course, you can look forward to our yearly summary of the final rule when that is available.
Laura, thank you so much for joining us on the podcast today.
Laura Legg: You're welcome, Mike. My pleasure.
---
---