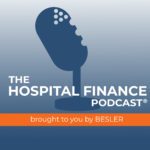 In this episode, we're pleased to welcome back Kristen Eglintine, Coding Analyst Supervisor at BESLER, to discuss coding and documentation challenges hospitals face on high volume diagnoses.
Podcast (hfppodcast): Play in new window | Download
Subscribe: Stitcher | RSS | More
Learn how to listen to The Hospital Finance Podcast® on your mobile device.
---
Highlights of this episode include:
Challenging high volume diagnoses
Why these six conditions?
How to ensure you are reimbursed properly
Common Challenges
Why this should be a priority
---
Kelly Wisness: Hi, this is Kelly Wisness. Welcome back to the award-winning Hospital Finance Podcast. We're pleased to welcome back Kristen Eglintine, coding analyst supervisor here at BESLER. In this discussion, Kristen will discuss coding and documentation challenges for high volume diagnoses. Thank you for joining us today, Kristen.
Kristen Eglintine: Well, hello, Kelly, and hello, everyone. I am really happy to be back, so thank you for inviting me. I'm really excited about this podcast as it's a preview of a webinar we're doing next week on Wednesday, October 12, at 1:00 PM Eastern Time. As we go through the podcast and you listen, I hope it entices you to join us next week as well.
Kelly: Definitely. And let's jump into it today. Like you said, you're presenting a webinar next week on October 12th titled Coding and Documentation Challenges for High Volume Diagnoses. What high volume diagnoses do you plan to discuss?
Kristen: So, there are six high volume diagnoses we'll cover. The first one being COVID-19. Over the past two years, we've learned a lot about COVID. How to prevent it, how to treat it, and even how to keep it from progressing from a mild case to something more serious. But the virus that causes COVID hasn't gone away. COVID is still plaguing our medical community and hospitals, and we are still in a public health emergency. So, because of that, COVID has made our list of high volume diagnoses. The other five that we will cover are chronic kidney disease, acute kidney injury, sepsis, acute respiratory failure, and malnutrition.
Kelly: Okay, and why did you choose these six conditions?
Kristen: The clinical definitions for these conditions are not static. They've changed over the years. These diagnoses challenge everyone, and reporting them correctly impacts reimbursement. A good example of this is sepsis. So, sepsis was defined in 1991. The definition was revised to sepsis 2 in 2001, and most recently, that definition was updated to sepsis 3 in 2016. However, sepsis 3 has not been universally adopted by all providers, payers, and regulators in the US and ICD-10 codes are still based on sepsis 2 two concepts because sepsis 3 definitions are inconsistent with the ICD-10-CM official guidelines. This creates a great deal of confusion in the coding world. So when a payer uses sepsis 3 criteria and the facility follows sepsis 2 criteria, you can see how this can be challenging.
Kelly: It sounds challenging. And is it fair to say coding these conditions can affect reimbursement? And if so, is there anything a hospital can do to ensure it is reimbursed properly?
Kristen: Yes. So, reporting these conditions, or even not reporting them, can definitely impact a hospital's DRG payment. Documentation is key here. We can't stress enough the importance of clinical documentation, integrity, and accurate coding. And let me break that down a little bit for you, and I'll use malnutrition as an example. There are several reasons why a hospital should focus on the documentation and coding of under nutrition, which is just one type of malnutrition. But for this discussion, reimbursement and denials will be at the top of that list. And we all know that reporting certain secondary diagnosis codes can increase the hospital's DRG payment. And let's assume it's important and reasonable that hospitals receive the full reimbursement they're entitled to according to the payment rules. So, if a patient has a secondary condition which increases the cost of care, such as a malnutrition, failing to report the correct diagnosis code might result in your hospital being underpaid for the services it has provided. Meaning, if a patient has severe protein calorie malnutrition, which is an MCC, and let's say the documentation wasn't sufficient enough to capture this condition as a secondary diagnosis, the hospital potentially is underpaid.
Additionally, Medicare and Medicaid and some other payers also include malnutrition in risk adjustments applied to premiums paid to managed care plans and then other risk adjustments used in various quality program and other initiatives. So, suffice it to say, providing complete and accurate documentation of malnutrition supports more accurate coding and helps your hospital receive the reimbursement it's entitled to.
Kelly: Okay, thank you for that. And what are some of the challenges that you will be discussing on the webinar?
Kristen: There are so many challenges today out there for coders and CDI. But regardless of the diagnosis and regardless of the facility, there are two challenges that apply everywhere. So, if COVID or if AKI, or if sepsis, or if malnutrition, or acute respiratory failure is diagnosed, is documentation and the medical record good enough to withstand a payer review? And then the second challenge is if COVID or if the AKI, if sepsis, if malnutrition, or acute respiratory failure is not mentioned by the physician, but you see evidence in the clinical record, was it missed and what do we do about that? How to combat those challenges takes a complete team approach. So, we need CDI, we need coders, we need physicians all working together. As an inpatient coder, though, there are several things you can do. You can query. So, you can ask the clinician to clarify unclear, conflicting, or like vague documentation. You can have the facility work together, consult with providers and CDI and revenue integrity. You can establish specific criteria, determine criteria for particular diagnoses, such as creating sepsis criteria or agreeing to use the Aspen criteria for malnutrition, and then make sure all providers, all coders, and all CDI use them consistently.
Kelly: Great. Thank you. And why should this be a priority when so many are still under water due to our current public health emergency?
Kristen: It's important to prep for what's coming once the public health emergency ends. We need to look to the future. And one way to do that is to go back and refresh and review clinical documentation requirements for accurate coding for diagnoses without COVID. CMS has hinted that unspecified codes could lose their CC or MCC status in the future. So, specificity is more important than ever. Taking acute respiratory failure as an example. Hospitals have been overwhelmed with COVID patients with respiratory failure. Respiratory failure as a manifestation of COVID is fairly easy to diagnose and probably rarely challenged. These patients are very sick. They are compromised. They have multiple MCCs on a claim. But going forward, we will be back to seeing patients with acute respiratory failure from other conditions, such as like an acute exacerbation of COPD. So, with COVID winding down, it's a great chance for coders and CDI to review specific criteria for these high-volume diagnoses.
Kelly: That makes a lot of sense. Thank you, and thank you so much for joining us today, Kristen.
Kristen: Well, thank you. And then just to remind you, if you're interested, to please register and attend our webinar next week. It's a good one; you won't want to miss it.
Kelly: Thank you. We appreciate you sharing your knowledge on this topic with us in this episode. And as Kristen stated, you can learn more on this topic in our related webinar on Wednesday, October 12, at 1:00 PM Eastern time. You can learn more or register on our website, BESLER.com. And thank you all for joining us for this episode of the Hospital Finance Podcast. Until next time…
[music] This concludes today's episode of the Hospital Finance Podcast. For show notes and additional resources to help you protect and enhance revenue at your hospital, visit besler.com/podcasts. The Hospital Finance Podcast is a production of BESLER, SMART ABOUT REVENUE, TENACIOUS ABOUT RESULTS.
If you have a topic that you'd like us to discuss on the Hospital Finance podcast or if you'd like to be a guest, drop us a line at update@besler.com.