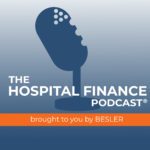 In this episode, we are joined by Laura Legg, Director of Solutions Strategy at BESLER, to discuss optimal structures for hospital revenue integrity departments.
Podcast (hfppodcast): Play in new window | Download
Subscribe: Stitcher | RSS | More
Learn how to listen to The Hospital Finance Podcast on your mobile device.
---
To view a Slideshare presentation about this episode, click HERE
To view the transcript of this podcast episode, click HERE
BESLER can help your hospital capture more revenue and stay compliant. Our Revenue Integrity service combines cutting-edge technology with the expertise of our seasoned coding team to uncover hidden opportunities.
---
Highlights of this episode include:
Overview of the organizational structure of a revenue integrity department
The main functions of a revenue integrity department
KPIs that revenue integrity departments measure
Certification options for revenue integrity staff
---
Resources related to this episode
---

Mike Passanante: Hi this is Mike Passanante. And welcome back to the Hospital Finance Podcast.
My guest today is Laura Legg who is our Solutions Strategy Director here at BESLER. And Laura is going to talk with us about optimal structures for revenue integrity departments.
If you're working at a hospital, I'm sure you've encountered revenue integrity, maybe working in that type of a department already, something that's handled differently throughout different hospitals around the country as we've seen.
And so, Laura is going to share some of her experience and what works and what doesn't work.
Laura, welcome back to the show.
Laura Legg: Thank you Mike.
Mike: So, Laura, why don't you, for our audience, just briefly go over what revenue integrity is at a high-end level.
Laura: I will Mike. Well, revenue integrity really requires a cultural change. And so we're really looking talking about people working across the typical silos we see in a hospital and really working together.
So, the main objective of revenue integrity activities is to ensure a clean, complete claim goes out the door. And that revenue captures correct and compliant and that facilities keep the revenue they receive.
So, it's really a proactive approach that links together revenue cycle, clinical operations and compliance. And the great thing about it, Mike, is that revenue integrity activities benefits patients, facilities and payers.
Mike: Got it! And Laura, in your experience, what would you say is the basic organizational structure for a revenue integrity department?
Laura: Well, we see all kinds of sizes and shapes when it comes to revenue integrity, Mike. But typically, what we see is a revenue integrity department led by an experienced senior revenue integrity leader who reports directly to the Vice President of revenue cycle.
Now, depending on the size of the organization, we typically see about two other leadership staff reporting to the revenue integrity leader. One of those is usually a charge master subject expert and a team of charge capture auditors; and a second team then led by another leader that focuses on training, education and improvement.
It's important for all the revenue integrity team to be able to take the lessons they've learned and incorporate them into process improvement.
You'll often see titles in revenue integrity focus specifically around denials management, charge capture, auditing, and charge master integrity.
Mike: Okay. So, jumping off of what you just said in terms of the titles you might see, what are the main function of a revenue integrity department?
Laura: Well, there are a lot of functions of revenue integrity that go clear across the continuity of the revenue cycle, but I'll talk about a few.  I'll start with claims submission, then clinical documentation coding, and then charge capture. Those are three really big functions that almost all revenue integrity departments include.
For claim function, we know that before claims are submitted to payers, they need to be tracked to ensure they meet coverage policies. Some payers, for example, require pre-authorization services. So, we have to review our local requirements to be sure that our claims submission meets medical necessity.
Now, for the second one, clinical documentation and coding, well, they both require almost constant auditing and educating to keep up with the updates and keep ahead of our payer auditors that are now reviewing for clinical documentation encoding of our claims.
And lastly, charge capture, which is a really critical component to ensure payment for services used during, procedures, and really, all services. And we know that correct charge capture can assist with proper coding of procedures.
Mike: Thanks Laura. So that's all great background. Let's just take a scenario where a hospital doesn't have a revenue integrity department. Where should someone start who wants to get one going off the ground?
Laura: Well, facilities almost always start by looking at their denials. And that will help them identify some areas in revenue integrity that they need to focus on. But what you really need for revenue integrity is a great team around you. And typically, I see revenue integrity teams are pretty sparse, and there's not a lot of people in facilities yet dedicated to revenue integrity.
But if you do get the ability to go into revenue integrity, and that's one of your sole responsibilities, you really have to work hard to make sure you understand revenue integrity. And you can teach those around you who aren't in revenue integrity.
And of course, credibility is huge. If you give the wrong information or pretend that you know something you really don't know, and don't do your homework, it can be a real setback if you give wrong information.  And also, it can put your organization at risk.
So, one thing I have learned, Mike, is it's okay to say "I don't know," and then go off, do my research and come back.
Mike: So Laura, what if you're in a situation where hiring additional FTE's is just not possible. Are there any other approaches a hospital can take?
Laura: There are, Mike. And most of us can't afford to add FTE's. But if you just bear with me a moment and just think about your revenue cycle in terms of an interdisciplinary team and a kind of assembly line approach, you really can use that approach to take care of patients and produce a clean claim.
So, that process shouldn't require more FTE's or increased cost. Instead the process should involve a redistribution of effort from the backend to the front end. FTE's are far more effective in preventing denials than managing already received denials.
So, focus proactively on pre-services admission, places like case management of patients, make sure all the necessary paper works are in place, and have the patient placed in the correct status.
There may be an overlap in FTE's if the front-end is staffed to cover the volumes and while backend backlogs and denials are worked down. But those should soon balance out.
So, I recommend that revenue integrity departments have a budget and a revenue integrity plan. That's developed and updated every year to set goals for reduction in backend staff as you receive fewer denials due to your proactive work upfront.
Mike: Laura, why do you think revenue integrity is on the radar for health organizations right now?
Laura: Well, I think the reason it's on the radar, Mike, is everybody is trying to increase their revenue, be compliant and lower their risk. We know we're not in the same industry we were in five years ago. We've gone from rewards for volume to rewards for quality and volume. Our new environment is one of managing risks, whether it be from external auditors and denials or from penalties from poor performance or from errors that cause shrinking margins.
So, we can control how our internal operations position us to operate under this new environment. The goals of this operation are to reduce risk, maximize margins, and increase value-based rewards.
What we're talking about is a cultural revolution in healthcare that brings the clinical functions and financial functions together to ensure revenue integrity. But if a physician is not documenting a patient's need for care, or the nurses don't document the vital signs to show how ill the patient was, the risk for a denial is great no matter what the revenue cycle team does.
So, we're really dependent on one another for success.
Mike: Laura, let's talk about how revenue integrity teams operate. The first question I'd like to ask you is: "What do you think are some of the keys to having a revenue integrity team communicate effectively?"
Laura: Well, you know, Mike, communication is always a challenge, but especially in revenue integrity because we're not only crossing physical locations, we're working with remote staff and we're trying to break down silos and unite departments and organizations.
So, communication challenges are always there. And they're always going to be there. It really takes a great deal of effort towards team-building to break down those silos, embrace new challenges, and really to create an atmosphere where people can have success with revenue integrity, where everyone is talking, no one is defensive, but they have common goals. With the right team, we'll move you forward.
Mike: Laura, can you talk about KPI's that a revenue integrity department should be measuring?
Laura: I can, Mike, because I'm a real advocate for KPI's everywhere across the revenue cycle. And one of the things I used to tell people when I taught was: "If you don't have KPI's, it's like playing a football game, and nobody keeps score." You don't really know whether you're getting more efficient or not.
So, your KPI's should be very specific and should identify risks or operational insufficiencies. And so I'll give a really good example, Mike, of one. Pre-services could audit CMS-required documents such as the Important Message for Medicare. We know that this form is required to be signed by the patients 100% of the time. Conversely, if the Medicare-managed care is found on Medicare advantage records, they don't need this Important Message from Medicare. They're not required to have it.
So, if your staff is performing unnecessary work, as most of the Medicare Advantage Plans don't require the Important Message from Medicare, the KPI should not be measuring that. So really, I'm looking at those KPI's close. I'm makings sure they're focused on what exactly needs to be done—nothing more and nothing less.
So, KPI's should also identify cross-functional effectiveness. A joint KPI between pre-services and case management is a good examples. And it measures authorization prior to treatment or admission and measures the time between the request for clinical information and the time case management fulfills that request.
One of the best ways to determine if your organization has control of revenue integrity is through the management of denials and the measurement. High numbers of initial denials require tremendous back records to reduce the likelihood of turning those into final denials.
So next is the assessment of the root causes of those denials. Separate the denials into categories that can be tracked and acted on such as duplicate claims, no authorization, and a denial for medical necessity.
Mike: So Laura, let's just talk about some resources for revenue integrity professionals for a moment. What have you found to be a good way to connect with revenue integrity peers?
Laura: Well, Mike, I was one of the early joiners of the National Association for Healthcare Revenue Integrity. And it is a great organization. And it's a great way to develop a network of peers in revenue integrity.
The mission of the National Association for Healthcare Revenue Integrity is to enhance the revenue integrity profession through standards advocacy, networking, promotion of shared knowledge and resources. And as most organizations do, they have a website. They also have a monthly journal and also a blog that you can go in and read about the common problems in revenue integrity. So they're a great resource.
The other thing is that, in 2018, they're having their second Revenue Integrity Symposium which brings together training on Medicare billing and compliance, patient status, revenue integrity case management, coding and all kinds of revenue integrity functions.
This year, the symposium is held October 16th through 17th at the Wigwam Resort just outside of Phoenix.
Mike: And of course, BESLER will be exhibiting there. So if you plan to go, please stop by and see us there.
Laura, my final question for you. Is there a certification for revenue integrity staff?
Laura: There will very soon be a certification for revenue integrity. And it is brand new. And the National Association for Healthcare Revenue Integrity is developing a certification in healthcare revenue integrity. They're calling it CHRI, those initials that some of us have behind our names—lots of those, but there's going to be one more. And it's going to just provide a baseline of competency for revenue integrity professionals.
It's going to be available this fall, Fall 2018. And if you go ahead and look on the website for the National Association for Revenue Integrity, you can find more information about it, Mike.
Mike: Thanks Laura.
And for everyone out there, Laura of course heads up the revenue integrity efforts here at BESLER. So we invite you to go and learn more about what Laura and her team are up to and perhaps some additional revenue integrity resources for yourself as well.
And they can be found at besler.com/RI.
Laura, thanks so much for joining us today on the Hospital Finance Podcast.
Laura: Thank you, Mike. It was my pleasure.
---