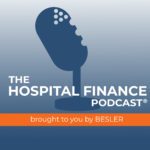 In this episode, we are joined by Courtney Midanek, Managing Director at Kaufman Hall, to discuss healthcare mergers and acquisitions in Q2 of 2020.
Podcast (hfppodcast): Play in new window | Download
Learn how to listen to The Hospital Finance Podcast® on your mobile device.
---
Highlights of this episode include:
Background on Kaufman Halls' recent healthcare mergers and acquisitions activity report. 
What assumptions were made about M&A going into Q2 and the beginning of the pandemic.
Notable highlights in M&A during Q2 of 2020.
Some potential impacts from COVID-19 on future M&A activity in 2020. 
Trends in M&A that will continue into Q3 and beyond.
And more…
---
Mike Passanante: Hi, this is Mike Passanante and welcome back to the award-winning Hospital Finance Podcast®. Marketplace transformation led by healthcare M&A is always noteworthy. However, COVID-19 has shifted the healthcare landscape like nothing before it in recent memory. To explain how healthcare M&A fared in Q2 of 2020, I'm joined by Courtney Midanek, Managing Director of Kaufman Hall, who will share the results of Kaufman Hall's recent healthcare mergers and acquisitions activity report. Courtney, welcome to the show.
Courtney Midanek: Thanks so much, Mike. I appreciate you having me today.
Mike: Courtney, Q1 ended with a lot of uncertainty as COVID began to spread in the United States. What were your initial assumptions going into Q2 around M&A compared to what actually happened?
Courtney: Sure. So this is a time when we could really look smart. We have the benefit of hindsight, of course. But in reality, like most others, we just didn't know what to expect. At the end of the first quarter, we only really had a few weeks of the reality of a pandemic in the rearview mirror, and it seemed like the world was just a bit frozen at that point. And of course, no one knew how long this was going to go on and sort of the nature of life moving forward. At that point, with electives shut down and the world in shock, we definitely saw a potential distress on the horizon, but it was hard to determine how far out that was, how damaged some of these health systems might be, and what their reaction would be. At that point, we saw executives with their attention laser focused on preparing for the surge and really just dealing with what was right in front of them, and there was a time period there where they really did not have the bandwidth to be thinking about strategic partnerships. But now what we know and we sort of maybe didn't know at that point per your question is that really strong organizations, organizations that went into the pandemic with very strong balance sheets and strong operating positions, did not pause their strategic discussions, and we have evidence of that now with a couple of major transactions that were announced in June, Steward Healthcare's acquisition by a group of affiliated physicians and Advocate Aurora Health's proposed merger with Beaumont.
Mike: Courtney, could you share some notable highlights from what happened in Q2?
Courtney: Sure. So although there was, probably not surprisingly, a slowdown in the number of transactions, the quarter did see one of the largest average seller size ever recorded which was over 800 million, driven in part by those two deals that I just mentioned, Advocate Aurora Health, Beaumont, and the Steward transaction. The total transacted volume of 12 billion was also near historic highs and especially notable given the lower number of transactions that I mentioned. Also, for-profit and national systems continue to reshape and optimize their portfolios with divestitures marking 6 of the 14 announced deals with sellers including community health systems, Quorum and HCA. So that was definitely another trend and highlight of the quarter.
Mike: What do you think the potential impacts could be from COVID-19 on future M&A activity?
Courtney: So we think that the pandemic has actually demonstrated and underscored the continued advantages coming from scale, coordination among a larger and scalable system, and innovation that's likely to strengthen the strategic rationale for future partnerships. So that said, the way that we're sort of describing the COVID-19 crisis and its impact on M&A activity is driving activity, what I'll call, on the bookends. So on one side, you've got some that are significantly battered from a liquidity and operating standpoint. Even after some of the CARES dollars, we have some organizations that we see that are just really in a distressed place, and we think that there's going to be an increasing number of distressed transactions and maybe even bankruptcy deals. But then on the other side of the spectrum, we see that highly strategic transactions are going to continue to increase, again, with strong organizations that went into the pandemic looking to further bolster their positions and really not slowing down, saying that, again kind of back to the beginning of the question, they still see the advantages of scale, coordination, innovation, and the ability to be more prepared as a larger organization, continuing to drive those highly strategic transactions.
Mike: Is there anything else you would like to share from the report or sum up for our listeners?
Courtney: Yeah, maybe just two additional points, two trends that we really think are going to continue into Q3 and beyond. The first is this trend of megadeals, and throughout the podcast today, we've talked about a couple of those that happened in Q2. Now you've heard about the announcement of Cone Health and Sentara last week. So we continue to see these megadeals come together, some crossing state lines and looking to develop more of a regional presence. And then second is the continued acceleration and interest in payer-provider transactions. The payers, of course, weathered the storm much better during the pandemic than the providers as you saw those volumes sort of slowing down. And the continued drive toward value-based medicine, we think, is going to continue driving these payer-provider discussions and, ultimately, transactions.
Mike: Courtney, if someone wanted to get a copy of the M&A activity report, where can they go?
Courtney: Sure. You can get a copy of the report at www.kaufmanhall.com.
Mike: Excellent. Well, we will look forward to seeing where M&A takes us through the rest of 2020. Courtney Midanek, thanks so much for joining us today on The Hospital Finance Podcast.
Courtney: Thanks for having me.
---