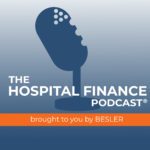 In this episode, we are joined by Dr. Kao-Ping Chua, General Pediatrician and Lead Researcher at the University of Michigan discussing the financial burden patients may face if insurers allow waivers to expire.
Podcast (hfppodcast): Play in new window | Download
Subscribe: Stitcher | RSS | More
Learn how to listen to The Hospital Finance Podcast® on your mobile device.
---
Highlights of this episode include:
What patients might pay now for COVID hospitalization
How the research was conducted and major findings
What services Cost-sharing waivers were applied to
Healthcare policy moving forward
---
Mike Passanante: Hi. This is Mike Passanante, and welcome back to the award-winning Hospital Finance Podcast. Many insurers waived cost-sharing for COVID-19 hospitalizations during 2020. Nonetheless, patients may have been billed if their plans did not implement waivers, or if waivers did not capture all hospitalization related care, including clinician services. Recently, a group of researchers assessed out-of-pocket spending for COVID-19 hospitalizations in 2020. In an effort to understand the financial burden patients may face if insurers allow waivers to expire, as many chose to do during early 2021. Today, I am joined by Dr. Kao-Ping Chua, lead researcher of this study. Dr. Chua is a general pediatrician and health services researcher in the Department of Pediatrics and the Susan B. Meister Child Health Evaluation and Research Center at the University of Michigan. Dr. Chua, welcome to the show.
Dr. Kao-Ping Chua: Thanks for having me, Michael.
Mike: We're certainly interested in this research as we look at the impacts of COVID going forward. Why don't you start out by telling us why you initiated the study and what you were looking for?
Dr. Chua: So as you alluded to in your introduction, most private insurers and Medicare Advantage insurers did not charge patients for COVID hospitalizations during 2020. But starting in early 2021, many national insurers started to abandon this policy, including UnitedHealth, Anthem, and several Blue Cross Blue Shield affiliates. The main objective of our study was to estimate what patients might pay now for COVID hospitalization if their insurer has let its cost-share waiver expire. And our secondary objective was to assess the degree to which patients might face cost-sharing for other hospital-related services, even if they're– for example, the ambulance ride, or doctor's bills for seeing patients at the hospital, even if their insurer supposedly covered the costs of services billed by the hospital itself.
Mike: Okay. And how did you go about conducting the research, and what were your major findings?
Dr. Chua: So we used a national claims database representing private insurance and Medicare Advantage plans from across the US, and we identified about 4,000 COVID hospitalizations between March and September 2020, and looked at all of the claims that were associated with those hospitalizations. And so it turns out we were able to identify a small group of hospitalizations in which patients were billed for hospital services like room and board charges, which implied that their plan did not waive cost-sharing for COVID hospitalizations. And among the privately-insured patients in the small group, the mean out-of-pocket spending across all hospitalization-related services was $3,800, compared with $1,500 Medicare Advantage patients. And I think this really suggests that the amount patients could pay in 2021 for a COVID hospitalization could be quite substantial without a cost-sharing waiver. We also found that the vast majority of patients in our study appeared to be covered by an insurer cost-sharing waiver, as suggested by the fact that they weren't billed for services provided at the hospital like room and board charges. But despite this, we found that seven in 10 privately insured patients, and about half of Medicare Advantage patients, received a bill for at least one hospitalization-related service, whether it was billed by an ambulance provider or a clinician. Some of the services that most commonly resulted in a bill were things like ambulance transport and clinician bills for inpatient evaluation and management. In other words, the charge for a doctor to come see you, and do rounds, and manage you in the hospital. And what this suggests is that some of the insurer cost-sharing waivers only applied to selected service, for example, those billed by the hospital, and didn't necessarily capture all hospitalization-related costs.
It's also possible that waivers were actually supposed to be comprehensive in scope, but that there were some sort of implementation problem. For example, perhaps there was some sort of coding issue, or– for example, the wrong diagnosis code was submitted by the clinician or the hospital, which resulted in the patient receiving an erroneous bill.
Mike: So what do you think this means for healthcare policy moving forward?
Dr. Chua: So my main concern is that patients with serious COVID-19 symptoms will delay going into the hospital due to concerns about costs. And that, unfortunately, could increase their risk of complications and even death. I think it's important to remember that, even though COVID hospitalization numbers are declining right now, there's still about 15,000 Americans currently hospitalized for COVID. And about 2,000 people are newly hospitalized per day. And I also think it's important to remember that, in the fall, many fear that hospitalization numbers could surge again because of the emergence of variants, incomplete vaccination rates, and the relaxation of social distancing measures. So given all of that, I do think it's premature to stop protecting patients from the costs of COVID hospitalization. I don't think that insurers are going to relent and reinstate their waivers, for a couple of reasons. First, because hospitalization numbers are improving rapidly, there really hasn't been that much PR blowback for letting the waivers expire. And the other thing to remember is that insurers are probably projecting that their healthcare spending levels are going to be close to, or even above, the pre-pandemic baselines. So there's a lot less motivation for them to waive cost-sharing for COVID hospitalizations in order to meet minimum loss ratio requirements. Whereas in 2020, when spending and utilization levels were so low, actually waiving cost-sharing for COVID hospitalizations actually got them closer to that minimum loss ratio requirement. And so to me, this brings up the question about whether the federal government may want to step in and pass legislation requiring insurers to cover all costs related to COVID hospitalization during the pandemic, including bills from doctors and ambulance providers, much in the same way that the federal government currently requires insurers to cover all costs related to COVID testing and vaccination.
There was actually a provision like this included in the Heroes Act of 2020, which passed the House but not the Senate. And I think one of the factors that worked against that provision was the fact that so many insurers voluntarily waived cost-sharing for COVID hospitalizations during 2020. However, now that so many of these waivers have expired, I do think that federal action needs to be reconsidered. I would also like to point out that we did another study recently that in my mind adds further impetus for federal action. So using the same database, we identified about 1,500 privately-insured and Medicare Advantage patients who were hospitalized for COVID between March and June 2020. And we found that, in the 90 days after discharge from hospitalization, one in 14 privately insured patients and one in 10 Medicare Advantage patients paid more than $2,000 out-of-pocket for post-discharge healthcare. And the fact that post-discharge healthcare is so costly for patients– for some patients, heightens the importance of at least protecting them from the cost of the hospitalization itself.
Mike: Yeah. It's an important point, because there is time after the hospitalization where care is needed, and we can't forget about that either.
Dr. Chua: Yes. After hospitalizations, many patients have to go to a nursing facility, or they or they're just readmitted to the hospital. Even if those things don't occur, there's prescription drugs, there's durable medical equipment, oxygen, outpatient visits, all sorts of physical therapy. There's all sorts of different things that people may need in that immediate post-hospitalization period.
Mike: Well, Dr. Chua, thank you for taking a look at this very important information. If someone wanted to read the detail of these studies, where can they go?
Dr. Chua: So the COVID hospitalization study is posted online at MedRxiv, which is a preprint server. And if you search for the title Out-of-Pocket Spending for COVID-19 Hospitalizations During 2020, it should come up immediately. We also submitted that paper to a peer-reviewed journal, and are hopeful that publication will occur in the near future. The other study that I just mentioned on post-discharge out-of-pocket spending was also recently posted online to the same preprint server, medRxiv. And that one is entitled Out-of-Pocket Spending Within 90 Days of COVID-19 Hospitalization.
Mike: Dr. Kao-Ping Chua, thank you so much for joining us today on The Hospital Finance Podcast.
Dr. Chua: Thank you.