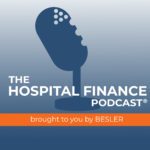 In this episode, we are joined by Rebecca Hellmann, Chief Marketing Officer for Olive, to discuss their study on the state of hospitals adopting and investing in artificial intelligence and robotic process automation.
Podcast (hfppodcast): Play in new window | Download
Learn how to listen to The Hospital Finance Podcast® on your mobile device.
---
Highlights of this episode include:
Background on Olive's study which surveyed 115 hospital leaders on their familiarity and interest in artificial intelligence.
What percentage of hospital leaders are ready to invest in AI and RPA today and in 2021?
How familiarity with AI and RPA influences and impacts decision making by hospital leaders.
What hospitals can do to prepare for the eventual shift to these new technologies.
And more…
---
Mike Passanante: Hi. This is Mike Passanante, and welcome back to the award-winning Hospital Finance Podcast.
Recently, Olive conducted a study that looked at how hospital leaders are responding to the imperative to drive efficiency and reduce costs through strategic investments in non-clinical technologies. The study specifically looked at the state of adoption and investment in artificial intelligence and robotic process automation. To share the results of the study, I'm joined by Olive's CMO, Rebecca Hellmann. Rebecca, welcome to the show.
Rebecca Hellmann: Thank you, Mike. Pleased to be here.
Mike: So Rebecca, before we dive into the study, why don't you tell us a little bit about Olive and what you do there?
Rebecca: Great. Well, you know, all of us as healthcare executives know that we're in this industry because we want to deliver better patient care. But it's difficult when we see this compression on margins which is reimbursements are increasing at a slower rate than our operating expenses are. We see that one of every three dollars is spent on administrative expenses. So our company, Olive, is on a mission to solve that challenge. We want to make health care more efficient, affordable, and more human with our digital employee, Olive. So Olive's an AI-powered digital employee, and she tackles costly, high-volume tasks using what we have, our building blocks in artificial intelligence, including robotic processing automation, computer vision, and machine learning. And that platform allows Olive to be efficient day zero by identifying wherein the hospital operation area she can make an impact quickly by getting up to speed and doing the function efficiently. And then, probably most importantly, getting smarter over time, understanding where there are leaks, where there are opportunities, and where there are, in many cases, denials that have an opportunity to be avoided.
Mike: Excellent. Well, it's certainly a burgeoning area, so I'm looking forward to diving into your study results because it's something everyone's looking at right now in one way or the other. So Rebecca, why don't you just start out, just explain to us what you were looking at in the study and your methodology for gathering that input?
Rebecca: Right. When we were commissioning this study, we really wanted to get better insight into the adoption for artificial intelligence and robotic process automation in health care, particularly in the back and front office functions where the industry is trying to solve the challenge of those massive dollars being spent that I referenced earlier. So we surveyed 115 hospital decision-makers, CFOs, CIOs, health care financing revenue cycle executives, and gauged their familiarity and interest with artificial intelligence. We even explored the common use cases that they were deploying in their own facilities.
Mike: And one of the major findings was that we're still really in the early adoption phases of AI in health care. Can you tell us what you found?
Rebecca: Yeah. What we found is that health systems, like organizations in many industries, are looking to increase revenue, reduce their costs, and increase, generally, their capacity to deliver meaningful work. And they've realized that AI and RPA are essential tools to support the handling and the processing of data much more efficiently than they're able to do with their human labor force. We found that about 23% of the leaders surveyed indicated that they're ready to invest today with 51% planning to invest by 2021. We found many hospitals want more education on the topic and are looking to their peers and other leaders in the industry to help them identify best practices on how to implement and manage change across their organization.
Mike: Rebecca, you also found that familiarity with artificial intelligence impacts decision-making around that. Can you expand on that for us?
Rebecca: Right. We actually found that the number one challenge to artificial intelligence adoption in health care is that hospital leaders hear the buzz around artificial intelligence and feel like they should be adopting it, but oftentimes, they don't know where to start. Our study found that hospital leaders that are familiar with artificial intelligence and RPA are twice as likely to implement artificial intelligence than those who aren't familiar. We also found that hospitals are looking for a partner that brings in deep healthcare expertise. It helps them quickly identify those processes that are appropriate for artificial intelligence and then stand up the automation of that process using industry best practices. We have found that our customers find most success when they start with processes that are high volume, repetitive, and prone to errors. And so applying artificial to these workflows first leads to quick wins and have big impacts. For example, managing the claims status and denial process. About a third of providers are still using manual claims denial management processes, and they're seeing that almost 15% of their claims that are denied are simply from missing or invalid claim data. And that's not an insignificant cost to the hospital. And reality is what needs to be done is known, however, they often just don't have the staff in which to do it. That's a fabulous area where artificial intelligence and RPA could be deployed to scale and avoid those magnitude of claims denials that are happening purely because of capacity constraints.
Mike: Rebecca, what do you think hospitals could be doing now to prepare for the shift to these new technologies?
Rebecca: We found in the survey that the biggest priority for hospitals that are implementing artificial intelligence was improving their efficiency and reducing their costs. And that's no surprise because of the healthcare dollars that are inherently wasted on administrative tasks that rely on large amounts of data. And hospitals are beginning to see how artificial intelligence can deliver on that priority. So as hospitals think about preparing that, it's both around identifying those areas where they see a big opportunity, starting to talk to both their peers in the industry as well as providers of this technology in the industry and start to align on a path to demonstrate quick wins and immediate path to value. So I think, moving forward, hospitals should begin actively researching artificial intelligence if they haven't already done so and then measure, from a financial standpoint, how much money or opportunity is on the table either on revenue acceleration, cost avoidance, or capacity increases. And those all have a significant impact on hospitals' bottom line, and so I would encourage hospitals to begin educating themselves on what that business case opportunity looks like and then how various providers on the market can help them get there.
Mike: Rebecca, where can someone go to read more about the study?
Rebecca: Anyone that wants to read more about the study can visit www.oliveai.com/valueofai, where we talk about this study and what it means for hospitals.
Mike: Rebecca Hellmann, thank you so much for joining us today on the Hospital Finance Podcast.
Rebecca: Thanks, Mike. It was a pleasure to chat with you.
---