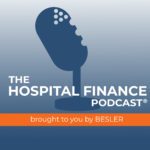 In this episode, we are joined by BESLER's Dave Korn and Bob Mahoney to discuss updates to the provider based facility reimbursement that was released as part of the 2019 OPPS final rule.
Podcast (hfppodcast): Play in new window | Download
Subscribe: Stitcher | RSS | More
Learn how to listen to The Hospital Finance Podcast on your mobile device.
---
Highlights of this episode include:
Background on site neutrality payments
How site neutrality was addressed in the 2019 OPPS final rule
What CMS's updates mean for outpatient clinics and ambulatory surgical centers
What hospitals can do in the short and long term to handle these changes
And more…
---
For an expert analysis of the 2019 OPPS final rule, download BESLER's special report – no form required
---
Mike Passanante: Hi, this is Mike Passanante. And welcome back to the Hospital Finance Podcast.
As a follow-up to the recently released outpatient payment final rule, I am joined by Bob Mahoney who's a senior consultant on our Reimbursement team here at BESLER and Dave Korn who's a senior manager here on our Reimbursement team at BESLER. And they're going to be discussing with me updates to provider-based facility reimbursement that came out of that final rule.
So, gentlemen, welcome to the show!
Dave Korn: Thanks Mike.
Bob Mahoney: Thanks Mike. Good to be here.
Mike: So Dave, let me turn to you first. One thing we hear about related to provider-based departments is site neutrality. Can you describe what site neutrality payments are?
Dave: Yeah, sure Mike. This is something that's been discussed for several years. Basically, it's that Medicare payments for an outpatient service will be paid the same regardless of where those services are performed, whether it's in an outpatient department of a hospital, an ambulatory surgical center or a physician office.
Mike: And that term, site neutrality was addressed in the 2019 OPPS ASC final rule, was it not?
Dave: Yes, that's correct… well, up to a point. There were certain provisions in the final rule that take steps to begin the movement to site neutrality for outpatient clinics and ASC's.
Mike: Okay. So let's start by talking about outpatient clinics. What can you tell us about those?
Dave: Well, sure. The clinic visit is the most common service billed under OPPS. And CMS believes that Medicare often pays more for the same type of clinic visit in the hospital outpatient setting than it does in the physician office setting. And CMS, in the final rule, has said that CMS is going to use its authority to pay for the HCPCS code. And that code is G0463. That's basically the clinic visit code. And what they're going to do in all outpatient departments, they're going to reimburse that at 70% of the full outpatient rate in 2019 and 40% of the full outpatient rate in 2020.
The final payment amount will equal the site neutral physician fee schedule payment rate for the services at an off-campus provider-based department. And CMS is estimating that that will save $300 million just in 2019.
And the reduction to those payments is, like I said, a 2-year phase-in period; the first year being a cut of 30%, and the second year, a cut of 60%.
Mike: Okay. And what are the effects on ambulatory surgical centers?
Dave: Well, one of the first things that they did was, instead of using the consumer price index to measure the update factor for ASC's (that's what they've always done in the past), CMS will apply the hospital market basket update for ASC's for the next five years.
So, just like the hospital market basket update of 2.9% minus the NFP adjustment of 0.8% which means a 2.1% increase for ASC's, the ones that meet their quality reporting requirements and see if they would've used the consumer price index, the update would've only been 1.8%.
And CMS will continue to reduce—this is the same that they do to hospitals. They will reduce the update by 2% for ASC's not meeting their quality reporting requirements.
And again, they're saying that the purpose is to promote site neutrality between hospitals and ASC's and to encourage the migration of services from the hospital setting to the lower cost ASC setting, again, feeling that it's costing Medicare more money to have those services performed at a higher cost hospital setting.
Bob: And just to follow up with that, another thing that CMS did was add 12 cardiac catheterization procedures to the list of ASC-covered surgical procedures. In the past, you always thought these cardiac catheterization as a hospital-based service. But now, that's even moved into an outpatient site neutrality.
And CMS also approved five new procedures performed (or in cardiac catheterization procedures) to the list of procedures paid by Medicare. So we're seeing more and more stuff being able to be done in an outpatient setting such as an ASC.
Mike: Bob, were there any other outpatient departments affected?
Bob: It's not effective immediately, but beginning on January 1st 2019, CMS is implementing a new HCPCS modifier, ER items and services furnished by provider-based off-campus emergency departments. They collect data to the extent to which OPPS services are shifting to off-campus, provider-based emergency departments.
We're seeing many more and more of those on the side of the highway and tied to the hospital and save you the trouble of going to the hospital. It's a quicker ER. But they don't know what's going on in these places where it's being done. When CMS gets a bill now, currently, it's an ER bill. Now that there's a modifier, they're going to know it's not done at the hospital.
They're paying money for this. And once again, they're looking to save money with the Medicare Payment Advisory Commission. And so you're going to have higher rates for services that are being paid at these off-sites. And it's something that hospitals need to be aware of because you can see the codes and the clinics and the clinics and the ASC's.  That's coming their way in the ERs.
Mike: Right! So, given those changes, what would you recommend hospitals do.
Bob: It's really important that hospitals know where they're providing services. And that means they're updating their Medicare e55 which lists the sites that every hospital is providing service at; and also, that their provider-based applications are completed with CMS.
I know this sounds—you'd assume hospitals are doing this. But with all the mergers and takeovers and acquisitions, our hospitals just don't know exactly what's there and what they're doing. So it's important that you follow the regulations. As these changes happen, you at least know what you have and what you're certified to do so you get the proper payment.
Mike: Right! And so, you're looking at that short-term rule change. But what can a hospital do as they're integrating this thinking into their long-term planning.
Bob: Well, I think you can see the trend here, that CMS is trying to save money and pay less and less for the outpatient sites. And we've seen them jump up all over the country where there's women's health centers or different areas. Now that those payments are being reduced (even though it's much more convenient to be up, maybe not go to the hospital and have to deal with the parking situation), hospitals need to bring that stuff back into the hospital setting and get the full payment. It's something we need to look at.
We're seeing in-patient sites decline in non-reimbursable areas, move them off-site. Bring these sites back in because you're not making the money that you thought you were making. It might not make the site profitable.
The other thing is to look at working with physician groups and joint ventures to make sure that you're getting the most reimbursement for the hospital in that plan.
Dave: And if a hospital has a lot of these outpatient services being performed at outpatient departments off-campus, they need to take a look and be ready for the reduction in revenue that they're going to see in the foreseeable future as CMS continues to make these cuts.
Bob: Exactly, Dave.
Mike: Definitely a moving target. It's something the hospitals are going to have to be very, very considerate of as they go through their planning processes now and in the future.
Bob and Dave, thanks so much for bringing this content to us and for spending some time with me today on the podcast.
---